Top 5 Leisure, Amusement and Theme Parks in the Philippines
Enchanted Kingdom
Manila Ocean Park
Ocean Adventure
Zoobic Safari
The Mind Museum
May 2013 – When spending time in the Philippines, local and foreign tourists  never run out of travel ideas and leisure activities and adventures. In fact, I haven't been in the other regions of the country particularly those that involve rigid traveling. Philippines offers a year long chill and relaxed atmosphere, from summer all the way to non-peak season. Philippines  'getaway islands always have something amazing to experience.
Ever wonder why some foreign nationals choose to spend their retirement age in the Philippines? Google it. But here's my  observation, Philippines has fine weather (although it juggles between extreme hot and extreme rains/floods during peak seasons). Overall Philippines has the best to offer so far: serene beaches, flora and fauna, the best tourist spot, gastronomic and exotic food, reasonable lifestyle, availability of health services, quality education, English fluency, warm and friendly locals, talented people, enjoys merry-making, OC on personal hygiene, splendid shopping destination and more shopping.
But before you hop in from the likes of Disneyland, Universal Studios, Legoland, Walt Disney World, Sanrio Puroland, or London, Spain, Japan, Egypt, Turkey, and more. Let me remind you guys to explore your own land. Nothing compares to Batanes, Palawan, Camiguin, Bohol, Boracay, Davao, Cebu, Ilolo, Baguio, Tagaytay, Mindoro, etc. than being a stranger in your own land.
Top 5 Leisure, Amusement and Theme Parks in the Philippines.
Opened in 2008, we brought our child for the first time in December 2010. I was blogging for deiville(dot)info then as a personal blog. Oceanarium is the most fun part in my own opinion because of its main attraction, the 25-metre long walkway tunnel with 220-degree curved acrylic walls where a school of fish and stingrays hang around above and beside you.
Check Manila Ocean Park updates at www.manilaoceanpark.com
Located behind the Quirino Grandstand at Rizal Park (Luneta) Manila, Philippines
Ticket rates according to Package and available Promos
Deep Sea Rush 5 – PhP550 Includes: Oceanarium, Sea Lion Show, Marine Life Habitat, Musical Fountain Show, Jellies Exhibit
Sea Breeze Express 8- PhP700 Includes:Oceanarium, Sea Lion Show, Marine Life Habitat, Musical Fountain Show, Jellies Exhibit, All Star Bird Show, Birds of Prey Kingdom, Penguin Talk Show
Pacific Sky Wonder 9 – PhP900 Includes:Oceanarium, Sea Lion Show, Marine Life Habitat, Musical Fountain Show, Jellies Exhibit, All Star Bird Show, Birds of Prey Kingdom, Penguin Talk Show, Trails to Antarctica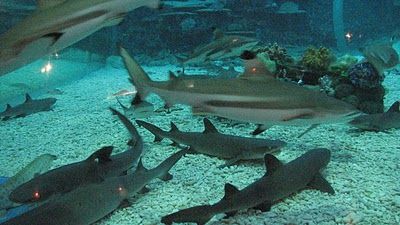 Enchanted Kingdom
Opened in 1995, we were there during the soft opening and it was raining the whole afternoon. And when the digital world isn't invented yet. 😉 The last time we visited EK was in 2005, a long time ago. It's time to hit the EK calendar soon.
Check Enchanted Kingdom updates at www.enchantedkingdom.ph
Located in RSBS Blvd., San Lorenzo South, Balibago, Santa Rosa City, Laguna, Philippines.
Ticket rates: The Regular Day Pass ticket is PhP 600 on weekends and PhP 500 on weekdays. Discounted rates for the following categories: children, senior citizen​s​ and group rates.
Attractions are categorized by park zones:
Victoria Park
Attractions: Space Shuttle and Roller Skater
Portabello
Attractions: 4D Discovery Theater – 4-D film Theater, Flying Fiesta – Wave Swinger, Rio Grande Rapids – River rafting ride, Shake, Rattle and Roll: The Experience!!! (SRR:X!!!) – Haunted attraction, Xtreme Paintball and Disk-O-Magic – Disk'O ride
Boulderville
Attractions: Air Pterodactyl, Bouncing Boulders Mini Drop Tower – drop tower, Boulderville Express – train ride, Bumbling Boulders – teacups, Dinosoarus, Petreefied House, Stone Eggs – kiddie Ferris wheel, Bouncing Bouldersand Rock Quarry
Midway Boardwalk
Attractions:Anchors Away – pirate ship ride, Bump N' Splash, Dodgem – bumper cars, EKstreme Tower Ride – drop tower, Midway Games, Roller Skater – Vekoma Junior Coaster, Steeplechase Arcade – arcade game, Up, Up and Away – balloon rideand Wheel of Fate – Ferris wheel
Brooklyn Place
Attractions: Broadway and Brooklyn shows, Parade at the Cobblestone street and Rialto (in 3D) – Simulator Ride
Spaceport
Attractions: Bandstand, Eldar's Tent, Kart Trak – Kart racing, Jr. Kart Trak – Kiddie Kart racing, Launch Time, Space Shuttle Max – Vekoma Boomerang roller coaster and Laser Mission
Jungle Outpost
Attractions:Amazon Hoops, Jungle Log Jam – Log flumes, Swan Lake and Tropics Trading Post
Fireworks Display is scheduled during weekends and Philippine Holidays.
Ocean Adventure
Ocean Adventure is Southeast Asia's only open-water marine park where dolphins showed charm and intelligence (which was the animal right's group oftentimes  battling issue).
Opened in 2001, the only time we were able to visit the theme park was during the summer season of 2009.
Check Ocean Adventure updates at oceanadventure.com.ph
Located at Group I Ilanin Forest, Subic Bay Freeport Zone, Zambales, Philippines
Ticket rates:
Adult – PhP 550
Children 12 years old and below – PhP 440
Senior Citizen – PhP 440
Zoobic Safari
Zoobic safari has lots of tiger breeds, you can even feed them from an open area (gentle reminder though) keep your  fingers intact! 🙂 Best to enjoy the park during summer, the long trail is tiresome and yet packed with F-U-N.  It's recommended to bring your own vehicle and wear comfortable clothing and shoes.
Opened in 2001, the only time we were able to visit the theme park was during the summer season of 2009.
Check Zoobic Safari updates at www.zoobic.com.ph
Located at Group I Ilanin Forest, Subic Bay Freeport Zone, Zambales, Philippines
Ticket rates:
Day Tour Entrance Rate
Php 495 – Adult
Php 395 – Kids 4 ft. and below
Free – Kids 3 ft. and below
The Mind Museum
The Mind Museum is a project started by the Bonifacio Art Foundation, Inc. (BAFI). BAFI is a non-stock, non-profit organization, supported by the contributions of property owners in Bonifacio Global City. Dubbed as the Philippines' first world class museum, it cascades through the museum's interactive areas in accordance with today's information age.
Opened in March 2012, barely new to the Filipinos but the museum offers a discounted rate for educators and public school students. Go fix your schedule and feed your sight and mind with the world you lived in.
Check The Mind Museum updates at www.themindmuseum.org
Located at JY Campos Park, 3rd Avenue, Bonifacio Global City, 1634 Taguig, Philippines
Ticket rates:
#1 For 3-Hours maximum stay at the museum
Adults – PhP 600
Children (Children 2 feet below are FREE) and Students (Up to College) – PhP 450
Public School Students – PhP 150
Teachers – PhP 150
#2 All Day Pass – PhP 750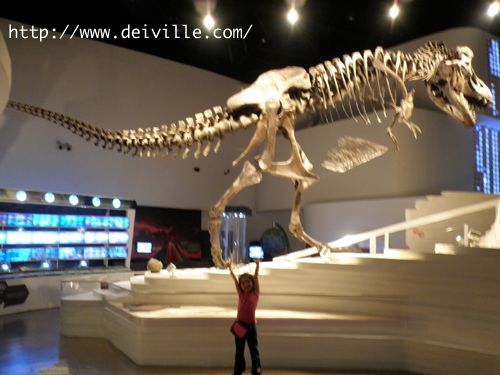 NOTE: Get the latest ticket rates and schedules from the official website and business partners.
The Mind Museum Summer Programs 2013: A Science Exploration For Young Minds
NBC Tent: Minds at Work – The Mind Museum's 1st Exhibit Testing May 26, 2011
The Mind Museum Sneak Peek
The Mind Museum Opens To Public this March 2012
Manila Ocean Park: Oceanarium [April 2010]
Zenyu Eco SPAntastic Encounter _ SPArty for Bloggers
Ecoparadise Products fro Zenyu Eco Spa at Hotel H20
Manila Ocean Park: Zenyu Eco Spa Revisited
Ecoparadise Philippines: Foodies With Negative Ions
Manila Ocean Park: Musical Fountain Show
Ocean Adventure Subic Bay Zambales [March 2009]
Zoobic Safari Subic Bay Zambales [March 2009]
DeiVille.com, created by Green Dei (Daryll Villena)
Write us at deiville.com(at)gmail(dot)com for tips on digital branding , entrepreneurship, consumerism, parenting, health talk, women talk, Pinoy travels and Manila lifestyle.
If you find this post helpful, informative or entertaining, feel free to SHARE it.
Get instant updates from deiville.com on:
Facebook | Twitter | Instagram | Pinterest | YouTube
I'd love to know what you think about this post. Feel free to leave your comment.
I do reply to each of your messages or questions so please come back if you've left one.
Disclosure: DeiVille receives products in order to conduct reviews. No monetary compensation was provided unless noted otherwise. All opinions are 100% my own. Some posts may contain web links in exchange for payment. In the event of a giveaway, the sponsor is responsible for delivery of the prize, unless otherwise noted in the posting. I only recommend, discuss, or introduce products/services/businesses I personally use and believe will be a good fit for my readers.