The Blog Summer 2013 Giveaway Wave 1
by www.deiville.com
Consumerism
Blogging Community
Social Media
Product Review
Let's celebrate Summer 2013 with simple and fun giveaways for our 5 lucky readers (and loyal followers if there were such 🙂 kidding aside). This is just Wave 1 for this season which will run from April 5 to April 22, 2013. It's a way of saying thank you for supporting the "consumerism" and general-content blog. Deiville.com (previously labeled as "I.am.Dial") has been alive and kicking since 2009 as personal blog turned parenting, seasoned traveler, food blog and the rest of blog niche I can think of. We thank you for subscribing the blog as well as the other websites, for liking our Facebook page(s), following Green Dei (yeah that's me) on several platforms such as Twitter, Google Plus, Google Page, Pinterest, Instagram, Four Square, Stumble Upon, Digg, LinkedIn and YouTube. Social media presence makes people and blog connects actively, so to you fellow bloggers and friend bloggers, let's cheers to a long lasting friendship!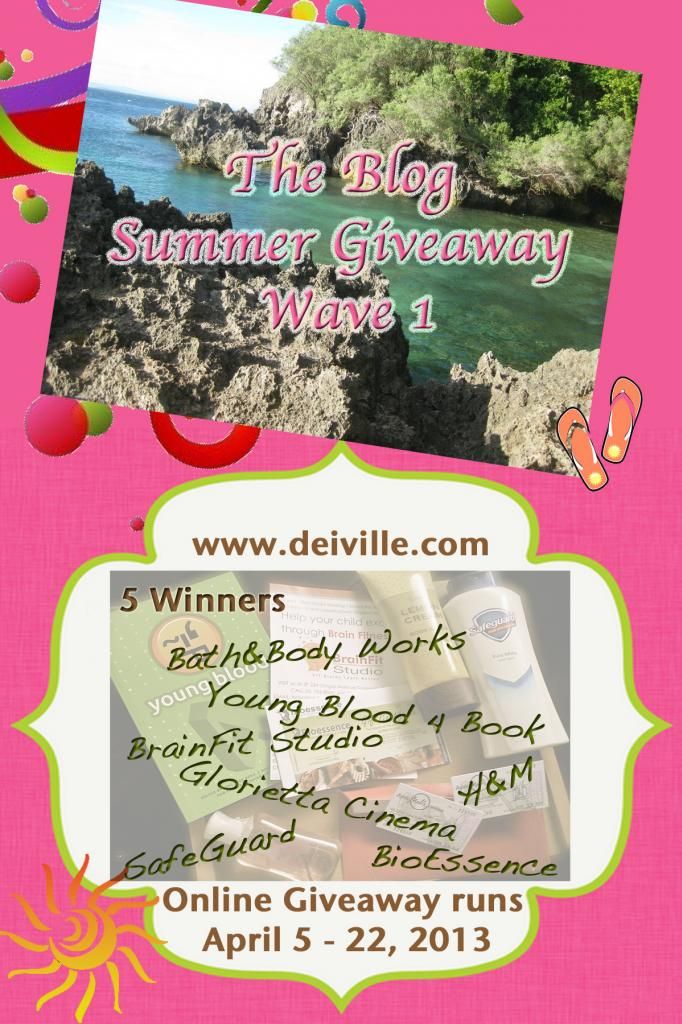 For Wave 1 of The Blog Summer 2013 Giveaway everyone (with Philippine residency) have the chance to win my humble and yet cool prizes. We'll be raffling out 5 lucky winners via Rafflecopter. Giveaway up for grabs varies from: bookworms from Philippine Daily Inquirer's Young Blood Part 4 with BrainFit Studio Philippines trial coupon, a relaxing pampering treatment at BioEssence, movie addicts can win Glorietta Cinema 2D Tickets good for two (2), skincare from H&M Lemon Cream body scrub and another cool skincare products from SafeGuard body wash with Bath&Body Works Signature Collection Sweet Pea shower gel.
How to scoop any of these swags:
(Please complete the required task in the Rafflecopter in order to make your entry valid).
Join via Rafflecopter
a Rafflecopter giveaway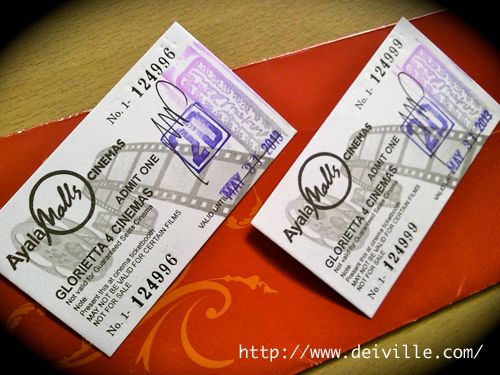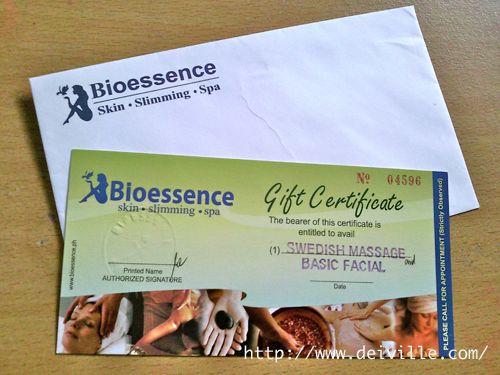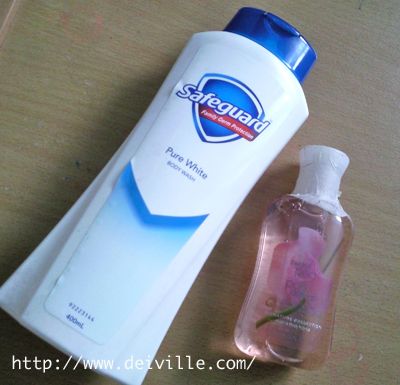 IMPORTANT NOTE:
1. Online giveaway runs from April 5 to April 22, 2013. The giveaway is open only for Philippine residents.
2.  You may use other emails or Facebook accounts if you like provided that they are real and active accounts. No dummy accounts please!   
3. Winners will be selected via Rafflecopter. All winners will be notified via emails. Please expect emails within or fourth week of April 2013.   
4. Winners will be published on http://www.deiville.com/ and deiville's Facebook Fan Page and Twitter account.   
5. Failure to do any of the above requirements will be subjected to disqualification. *Failure to reply/acknowledge the notification email sent to the winners within 48 hours upon receipt of notice—prizes will be forfeited.   
6. The Blog Summer 2013 Giveaway Wave 1 is good until April 22, 2013 only.
Disclosure: This giveaway is in not any  way sponsored or affiliated with Facebook and Twitter.   
UPDATE as of April 22, 2013 Announcement of Winners of The Blog Summer 2013 Giveaway Wave 1
#1 Allan Reyes – Young Blood 4 book and BrainFit Studio Philippines Trial Coupon
#2 Keira Anika Domingo – Glorietta Cinema Tickets
#3 Carmina Aguilar – Bioessence Gift Certificate (Swedish Massage and Basic Facial)
#4 Roch Santos – H&M Lemon Cream Bidy Scrub
#5 Ruby Salazar Papio – Safeguard Body Wash and Bath & Body works Bath Gel  
An email notification will be sent out within this week, please confirm within 48 hours upon receipt. Reply with he required shipping details. Failure to reply/acknowledge at the given time, prize(s) shall be forfeited and raffle out to another winner.
Thank you guys for your participation.;) Deiville.com hope to see you around, connect with us via our Facebook Page. Watch out for our Wave 2 Blog Summer 2013 Giveaway this May 2013!!! 
DeiVille.com, created by Green Dei (Daryll)
Follow @GreenDei and Like our Official Facebook Page: Dei-Ville
Write us at darylldial(@)gmail(dot)com for tips on consumerism, digital marketing, social media scenes and SEO.