Pay Using Your Credit Card and Get a Free 4oz Deep Cleansing Wash until September 30, 2013
Proactiv Solution Online Promo – for *Philippine market only
per FDA Promo Permit Number 0621 series of 2013
Rodan & Fields
Consumerism
Health Talk
Mind and Body
Brand Management
Product Review
Skin Care
Proactiv Solution Philippines
Online Shopping
Now there's a convenient way to pay for your reasonable skin care regimen using your fantastic plastic (credit card), Proactiv Solution Online Promo is giving away a Free 4oz Deep Cleansing Wash upon purchase of Proactiv 30 Day Kit or Proactiv 60 Day Kit using your Credit Card. Offer is good until September 30, 2013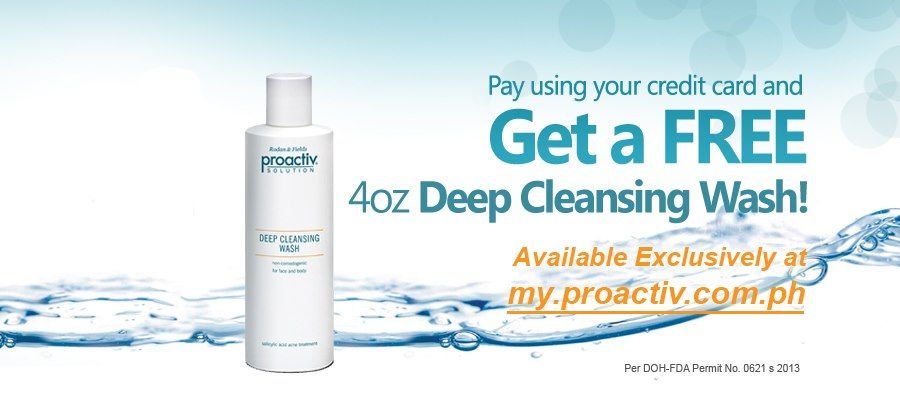 Common Pimple and acne normally shows on face, but for individual with extreme oily skin type even the back and shoulders are susceptible to pimples.
With Philippines' hot weather, Filipinos face discomforts and skin problems brought about by over-sweating and perspiration. To top it all, skin rashes and pimples aggravates an oily skin. The result, some individual suffers from acne/pimple all over the body. So even when a tropical country like ours, a pimple-stricken skin won't be able to show off their backs and shoulders due to low esteem.
Eradicate the problem, a simple step-by-step remedy from Proactiv Solution Online Promo to achieve that total acne-free body! Visit http://my.proactiv.com.ph during the promo period.
Watch this 30-second short video about Proactiv Deep Cleansing Wash featuring Drs. Rodan and Fields, creator of the Proactiv system.

How to Avail the Freebie:
1. Go to http://my.proactiv.com.ph (tip: do not add www at the beginning of the URL)
2. Log in or create an account (for new users)
3. Order a Proactiv kit 30-day or 60-day kit.
4. Settle the payment online with your credit card.
5. IMPORTANT: No special instructions or additional steps necessary as the system automatically detects your purchase and payment method, and the freebie is shipped together with your Proactiv Kit.


About Proactiv Deep Cleansing Wash
Proactiv Deep Cleansing Wash is a medicated body wash that fights acne on your back, chest, shoulders and everywhere! This all-purpose wash is specially formulated for face and body whenever pimples occur. It helps unclog and reduces oiliness while preventing future breakouts.
Proactiv offers a ways to manage and prevent body acne. For an all over skin clearing body treatment, the Proactiv Deep Cleansing Wash helps in exfoliating dead skin cells and pore-clogging oil and impurities while it cleans and refreshes your skin.
Main Ingredients:
Salicylic Acid – 2%, concentration that is excellent in healing and helping prevent acne break outs
Camelia Oleifera Seed Extract and Aloe Barbadensis Gel – these gentle botanicals soothe and heal skin
*This promotion is exclusive only to Proactiv Philippine's shopping site at http://my.proactiv.com.ph and cannot be availed of elsewhere.

PROACTIV SOLUTION PHILIPPINES
[w] http://my.proactiv.com.ph

DeiVille.com, created by Green Dei (Daryll)
Follow @GreenDei and Like our Official Facebook Page: Dei-Ville
Write us at darylldial(@)gmail(dot)com for tips on consumerism, digital marketing, social media scenes and SEO.
Full Disclosure:This is a sponsored post and deiville.com blog did receive compensation for review and sharing this post. Regardless, all opinions are my own and may or may not differ from yours. I only recommend, discuss or introduce my reader to products/services/businesses I would or do use myself.