MagSafe Adapter Repair 101
Apple Macbook
Consumerism
Product Review
Apple Products
Reduce, Reuse, Recycle (R3)
After three years of careful used the MagSafe power adapter of Apple's Macbook finally fall apart. The power cord was torn into two pieces from the base and its coaxial cable. Anything that is used more often tends to wear out naturally. I jumped into conclusion that I have to spend extra PhP 5,000 the most (approx. US$120), an amount I can spend more valuable for the family. It made me think that if Apple products are priced at par from its competitors, then consumers should be more extra vigilant in using the products. Which eventually the unit never able to used, that Apple Macbook experienced substantial TLC (tender loving care) from its owner. She never traveled and stay inside our crib for the rest of her life. 🙂 I can't understand why Apple allow its product to wear and tear without justification, given that they market the brand as sophisticated and upscale, not to mention the high price tag that comes with its name. Apple company should guarantee its users with five years or less free warranty. We can't even rely 100% to Apple's authorized service centers.
So I was guessing, why not try to repair the MagSafe Adapter. We did a DIY, being aero engineer and  electrical handy man. We were bound to make this "MagSafe Adapter Repair" a success.
Things needed:
Cutter knife
Electric soldering iron torch
Soldering wire
Vinyl electrical tape
Procedure:
With cutter knife, peel off the coaxial cable of both ends to expose the electric charges – positive and negative. Set apart both charges by twisting the metal wires away  from each other.
Solder the positive charge from the base of MagSafe Adapter  (power cord) to the other end of the cable's positive charge.
Securely wrapped the exposed wires with electrical tape.
Test the MagSafe Adapter. When the MagSafe connector lights up, you're in for a big reward – 100% working.
Install the adapter unit to a safe place.
MagSafe is about manufacturing and design, our home repair is just a run-of-the-mill strategy. But if you want to have it replace, go on. This repair 101 goes to shows that anyone can do a few tricks with the help of basic science.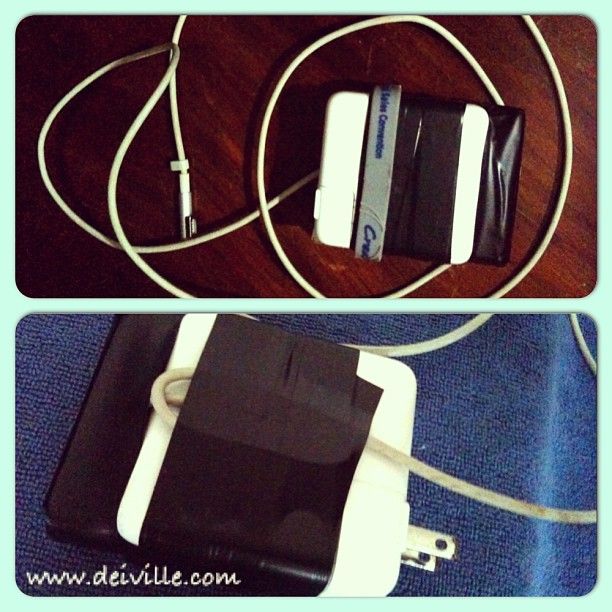 DeiVille.com, created by Green Dei (Daryll Villena)
Write us at deiville.com(@)gmail(dot)com for tips on entrepreneurship, consumerism, parenting, health talk, digital branding, women talk, Pinoy travels and Manila lifestyle.
If you find this post helpful, informative or entertaining, feel free to SHARE it.
Get instant updates from deiville.com on:
Facebook | Twitter | Instagram | | Pinterest | YouTube
I'd love to know what you think about this post. Feel free to leave your comment.
I do reply to each of your messages or questions so please come back if you've left one.
Disclosure: DeiVille receives products in order to conduct reviews. No monetary compensation was provided unless noted otherwise. Some posts may contain web links in exchange for payment. In the event of a giveaway, the sponsor is responsible for delivery of the prize, unless otherwise noted in the posting. I only recommend, discuss, or introduce products/services/businesses I personally use and believe will be a good fit for my readers.
brand names mentioned.