Scholastic Summer Book Warehouse Sale from April 15 to May 31 2016
Summer Reading Fun Workshop 2016
Your reading habits never stop, not even during your summer vacation. When the family has countryside travels, I make sure I bring extra books for my kid and for the adults as well when boredom strikes, mostly when we have to endure the waiting period of all sorts. The best time to alternate online games and net surfing.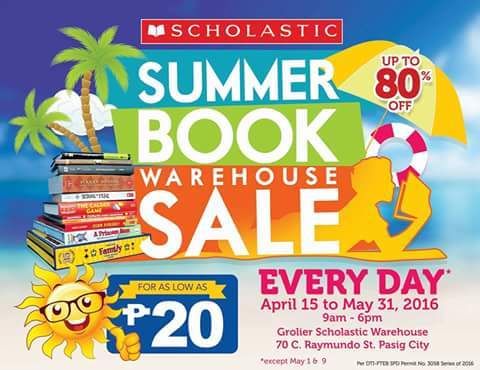 Have you been to Scholastic warehouse sale?

This summer the book sale is back! The most anticipated Scholastic Summer book warehouse sale from April 15 to May 31 from 9am-6pm daily. The book sale offers a wide selection of picture books, fiction and nonfiction books, popular series, young adult books, references, inspirational, arts and crafts, teacher's resources and audio books with discounts of up to 80%.
Apart from that, Scholastic Asia will also conduct a Summer Reading Fun workshop for kids ages 4-10, twice a day every Friday and Saturday. The workshop will be conducted by Scholastic Reading Program Consultants.

Warehouse is at:
Grolier Scholastic Warehouse
70-C Raymundo Street, Pasig City
DeiVille.com, created by Green Dei (Daryll Villena)
Write us at deiville.com(at)gmail(dot)com for tips on digital branding , entrepreneurship, consumerism, parenting, health talk, women talk, Pinoy travels and Manila lifestyle.
If you find this post helpful, informative or entertaining, feel free to SHARE it.
Get instant updates from deiville.com on:
Facebook | Twitter | Instagram | Pinterest | YouTube
I'd love to know what you think about this post. Feel free to leave your comment.
I do reply to each of your messages or questions so please come back if you've left one.
Disclosure: DeiVille receives products in order to conduct reviews. No monetary compensation was provided unless noted otherwise. All opinions are 100% my own. Some posts may contain web links in exchange for payment. In the event of a giveaway, the sponsor is responsible for delivery of the prize, unless otherwise noted in the posting. I only recommend, discuss, or introduce products/services/businesses I personally use and believe will be a good fit for my readers.