What to expect at Scholastic Summer Book 2016
Another happy book cruising for my young reader to ransack, dive into piles of books from Scholastic warehouse sale! She's been anticipating this kind of trip to add something to her little library back home. Since her last visit from Scholastic's December annual book sale, she continues to make book list on our phone's notes plus she made a secret list saying no one should peek on it to make her wishlist come true.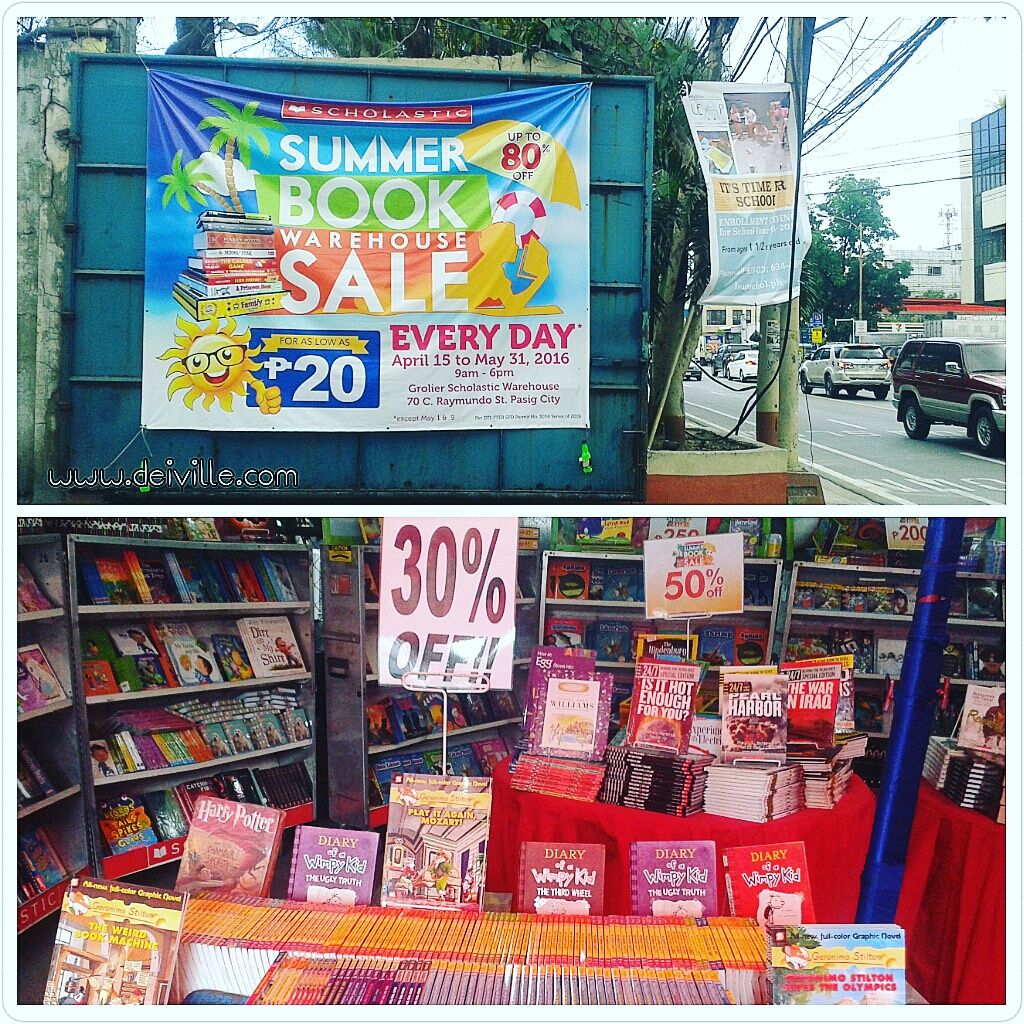 What do we have this summer? Check out our book haul with exciting titles.
15% off from original selling price
#1 Hollow City ( Miss Peregrine's Peculiar Children Book 2) by Ransom Riggs
#2 The Faulth in Our Stars by John Green
#3 Heroes of Olympus Book 5: The Blood of Olympus by Rick Riordan
From 50-80% off
#4 Inkspell (HB) by Cornelia Funke – P150
#5 Heroes of Olympus (HB) by Rick Riordan- P200 (from P640)
#6 Fire Within Book 1 by Chris D'Lacey – P50 (from P295)
#6 Fire Eternal Book 4 – P50
#7 Fire Star Book 3 – P75 (bought 2 copies)
#8 Harry Potter Goblet of Fire by JK Rowling – P150 (from P325)
#9 Harry Potter Deathly Hollows by JK Rowling – P250 (from P575)
#10 Iron Soldiers- A Story of Arms and Armour by Dave Luckett and Joseph Bond – P50
#11 2014 Almanac for Kids – P75 (from P235)
#12 Toddler activity books at P20 each:
I Am Generous by David Parker (P95)
The Mission of Addition by Brian Clearly (P110)
Easy Activity Fun (P95)
All 16 books are paperback titles except those labeled as HB.
Actual Total = P5,158
Total spending = P2,250
We saved P2,908.
Not to mention the perks of blogging, I got a special treats from Scholastic!
Come and visit Grolier Scholastic Warehouse along Raymundo Avenue in Pasig city (after Sorrento). The display area are filled.with deck of books to choose from. Toddler and young readers will enjoys books appropriate to their age and interests. Books ranges from 150, 100, 75, 50 and 20 pesos displayed by racks. Teach 'em young to choose and purchase the books they like. Books are great presents too instead of China-made (which is rampant) toys or sugar-filled flavor candies. Or maybe bundle it with chocolate or craft materials so they can appreciate it better.
Thank you Scholastic Philippines!
How to get there:
From Robinsons Galleria/EDSA take a bus or PUJ going to Jenny's (right side there's a bridge as landmark). From there it's a walking distance or take a tricycle.
Recommended topic:
Montage 8 Music Lessons for Kids

DeiVille.com, created by Green Dei (Daryll Villena)
Write us at darylldial(@)gmail(dot)com for tips on entrepreneurship, consumerism, parenting, digital marketing, women talk and Pinoy facts.
If you find this post helpful, informative or entertaining, feel free to SHARE it.
Get instant updates from deiville.com on:
Facebook | Twitter | Instagram | Google + | Pinterest
I'd love to know what you think about this post. Feel free to leave your comment.
I do reply to each of your messages or questions so please come back if you've left one.
Disclosure: This is a sponsored post and DeiVille is in any way compensated for review and sharing this post. Regardless, all opinions are my own; may or may not differ from yours. I only recommend, discuss or introduce my reader to products/services/businesses I would or do use myself.