Proactiv Solution Philippines: The Doctor's Secret (Partly) Unleashed
30 Basic Skincare Snippets
The Doctor's Secret to a Lifetime of Clear Skin
Authored by Dr. Katie Rodan and Dr. Kathy Fields
Proactiv Solution Philippines
Product Review
This booklet review will change the way how you perceive "acne" treatment/maintenance and how you manage your skin care habits. The booklet "The Doctor's Secret to a Lifetime of Clear Skin" contains "30 vital nuggets of skin care knowledge that will guide you throughout your life without acne." Co-authored by Proactiv Solution creators, Dr. Katie Rodan and Dr. Kathy Fields, these women both Standford-trained dermatologist revolutionizes the treatment of acne and how to deal with it from different perspectives.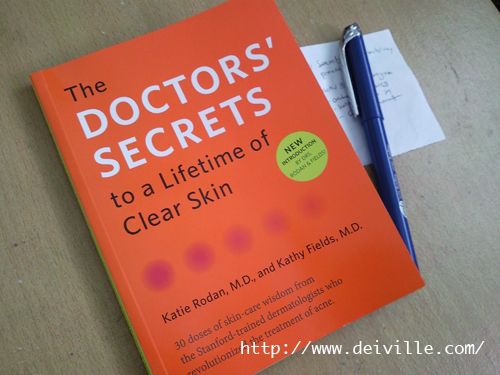 Here's to a clear, healthy looking skin (I suggest you get a copy of the booklet for better understanding):

#1 Acne thrives in your indecision.
#2 Acne is everywhere and it never, ever gives up
#3 Acne is common, complex, chronic and NOT curable. But it IS controllable.
#4 First, we make our habits. Then, our habits make us.
#5 Acne is not your fault. There's lots of blame to go around.
#6 Turns out, you are what you eat… sometimes.
#7 The sun is acne's friend – not your skin's.
#8 Even when your days of acne are behind you, wear sun protection.
#9 First, do not harm
#10 The one thing you must NEVER do is sometimes what you most WANT to do.
#11 If there are to be permanent marks on our skin, let them be voluntary.
#12 You can't even GIVE acne away.
#13 Apply to affected areas only – NOT.
#14 A pimple is not simple.
#15 Give yourself a hand.
#16 Kills acne bacteria dead.
#17 Benzoyl peroxide clearer clears… and whiter whites?
#18 Comedo is not funny.
#19 Opening pores: the acid test.
#20 Poor pores and follicle follies.


#21 Not a lot of "foot-ne" out there. But everywhere else, watch out.
#22 The sensitive type.
#23 Too much of a goof thing
#24 Scrubs can be the pits
#25 The irony of sulfur
#26 With all those hair follicles, why don't I get "scalp-ne"?
#27 Your skin is two-faced — and your face, two-skinned.
#28 Doctor your skin
#29 Take a picture. You'll want to forget this.
#30 When it comes to beating acne, success is routine.


The booklet shares on the spot solution to every acne problems, comes in brief and easy to read 67-pages. A guidebook you can carry, read and share anywhere. If you are not an acne-prone skin person, this guide book and product would still work (for your to understand skin types, conditions, etc.) is in reality useful and logically true in every sense, they walk the talk. It generalizes the skin condition and how it can prevent from popping up that ugly, demeaning zits or those that are yet to appear. The booklet triggers wrong beliefs, practices that should have been avoided, and the best part how to maintain an acne-free skin from face to your whole body.
The Doctor's Secret to a Lifetime of Clear Skin by Dr. Katie Rodan and Dr. Kathy Fields comes FREE with every purchase of Proactiv 30-day or 60-day kit from Watsons, SM Department stores, Proactiv Solution Philippines mall kiosks, and Proactiv door-to-door delivery. Visit your nearest branch or check it out at http://my.proactiv.com.ph/
DeiVille.com, created by Green Dei (Daryll Villena)
Write us at darylldial(@)gmail(dot)com for tips on entrepreneurship, consumerism, digital marketing, social media scenes and SEO.If you find this post helpful, informative or entertaining, feel free to SHARE it.
Get instant updates from deiville.com on:
Facebook | Twitter | Instagram | Google + | Pinterest
I'd love to know what you think about this post. Feel free to leave your comment.
I do reply to each of your messages or questions so please come back if you've left one.
Disclosure: This is a sponsored post and deiville.com blog did receive compensation for review and sharing this post. Regardless, all opinions are my own and may or may not differ from yours. I only recommend, discuss or introduce my reader to products/services/businesses I would or do use myself.