Investors in People (IiP) Philippines: How to Improve People Management Skills
Investors in People (IiP) Philippines
The Core of Investing In People
Business Seminar
People Management Skills
Using People Management for Competitive Advantage
Investors in People (IiP) Philippines recently held its first symposium in the Philippines concerning transformation of business performance investors in people standard. The seminar took place at the Asian Institute of Management's Conference Center in Makati City. IiP Philippines aims to connect Investors in People Standard to businesses and organizations to develop handling middle management and people strategy.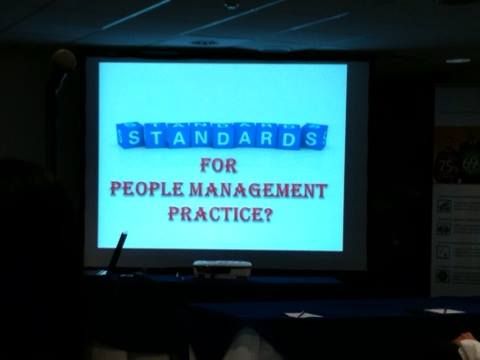 Gerry A. Plana (CEO of Investors in People Philippines) tackles "The Challenge of Managing People Better" – What is good for the people is good for the business, hence more often people are expensed not "capitalized."
Business on board should create a theory on how the can develop engaging leaders, where HR can play a supported role in achieving this goal. IiP Philippines' main task is to solve people issues. The group focuses on Leadership Development in different settings: Classroom, Coaching, Research, even through tailored advice. Investors in People Standard is not the typical management learning that can be learned in two days or so, it can go as far as months to meet the unique needs of an organization. It continuously review and deliver relevancy in your business, it's your OWN CRITIC. IiP seeks out the management's weakness and in turn gives a solution for improvement in your peopleware and in the business as a whole.
10 Reasons why we should INVEST IN PEOPLE today as discussed by Gerry Plana
#1 Link between people and business result
Employees are considered costs to be minimized. HR has lack of training in people management, it emphasize on short term value and corrective approach rather than preventive. Employees should be properly assessed using "Metrics" – overall performance, strong and weak points.
"There are three key measures in business employee satisfaction, customer satisfaction and cash flof, in that order. At the end of the day, everything depended on people their capability, motivation, creativity, organizational skills, and leadership (Jark Welch – former CEO G.E.)"
#2 Growing importance of "Service"
"Machinery and technology make it possible, PEOPLE make it happen" that's how essential employees are and the growing importance of service. Service is actually adding people in the product – attitude, knowledge, responsiveness, concern, and helpfulness.
#3 Growing importance of "Intangibles"
– Strategic Unity
– Speed
– Shared Mindset
– Learning
– Leadership
– Innovation
– Customer Connection
– Knowledge
– Teamwork
#4 Hidden costs of "People Issues"
These are the following concerns:
– Cost of turnover
– Cost of absenteeism
– Cost of tardiness
– Cost of low employee engagement
– Cost of organization not an employee of choice
– Cost of complaints/grievances
– Cost of low skills
– Cost of low trust
– Cost of resistance to change
– Cost of conflicts
#5 Growing value of "Execution"
Organization capability represents the capacity of an organization to use resources, get things done, and behave in ways that accomplish goals. The secret of organizational success is now predicting the future; it is in creating an organization that will thrive in a future that cannot be predicted.
#6 Rise of "Knowledge Worker"
Knowledge workers are people who work with their brains rather than hands. Ideas and concepts to be executed instead of skill-base. In 1900 only 17% of jobs required knowledge workers. Today (2013) more than 75% of job requires KW. Rapidly expanding knowledge revolutionizes the way we work and live. As the knowledge content of work rises, jobs grow more individualized (less interchangeable).
7. Talent war
If you can't get the best talent, get the best out of the talent you already have.
8. Growing importance of "Employee Engagement"
Plana cited it as "humanizing the workplace" – quality of working conditions, quality of work life and quality of life. Give importance to the well being of your people, these aspects are:
– Financial wellbeing – economic and live
– Social wellbeing – social and love
– Career wellbeing – mental and learn
– Community wellbeing – spiritual and legacy
9. Growing importance of "Innovation"
Innovation is not necessarily doing different things. It can also be about doing the same thing differently.
10. Downward spiral of performance
How to transform performance through your people strategy
Janet Webster-Watson talks about Investors in People Standard
Getting your business under IiP Philippines' program – Investors in People Standard targets alignment between the company's goal and employee improvement, it acts like from the principle of eyeglass scratch repair; company failures and mismanagement all boils down to who runs the business. The process will identify and meet the needs, it teaches a "learning needs" for implementation, new projects and new experiences. Under the program, the business methodology has the chance to put it into practice thus making a difference in the performance of the organization and continuous improvement on profits, people management and and how to work effectively.
The symposium also elaborate the need and call to action —to educate younger generations in developing the leaders of the future. HR companies of businesses today will benefit from the IiP offer, if they are serious with the business then they should start leveraging the welfare of its employee, not just how to increase profits and expand business.
At the forum, it was discussed that integrating the IiP accreditation to HR courses in colleges and universities, will be highly beneficial in the future time.
Currently, IiP accredited schools are St. Scholastica and Lyceum of the Philippines. While organizations with IiP accredited can be viewed under IiP website at http://investorsinpeople.ph/our-clients/
Personally, our government system (heads and staff of all levels) needs a lot cleaning up on people issues. I think they need to seek IiP Philippines to resolve the country's ill-fated management skills.
The symposium made by Investors in People (IiP) Philippines is in cooperation with Breakthrough Leadership Management Consultancy and Whiteboard Learning.
View more photos from Investors in People (IiP) Philippines at Deiville Facebook Page
Photobucket: http://s994.photobucket.com/user/daryll_dial/library/Investor%20in%20People%20Philippines
Interested organization may contact Investors in People (IiP) Philippines
15F Unit C Commerce & Industry Plaza Bldg.
1030 Campus Ave. Cor. Park Ave., McKinley Hill Town Center, Fort Bonifacio, 1634 Philippines
[t](02) 623-1212
[e] learning@investorsinpeople.ph
services@investorsinpeople.ph
[w] www.investorsinpeople.ph
DeiVille.com, created by Green Dei (Daryll)
Follow @GreenDei and Like our Official Facebook Page: Dei-Ville
Write us at darylldial(@)gmail(dot)com for tips on entrepreneurship, consumerism, digital marketing, social media scenes and SEO.
Full Disclosure: This is not a sponsored post and deiville.com blog did not receive compensation for review and sharing this post. Regardless, all opinions are my own except those that are mentioned from the organizers and may or may not differ from yours. I only recommend, discuss or introduce my reader to products/services/businesses I would or do use myself.
Disclosure: Deiville would like to thank JIM of Whiteboard for the invites.