Early Literacy Clinic (ELC) Quezon City
SY 2012-2013
Moving Up Prep! 🙂
Parenting
Philippine Education
Enrichment
Preschool in Metro Manila
Nothing can compare the joy of a parent knowing your child (at an early age) reaps success through its own effort. We've been practically saying how we've encountered a good progressive preschool founded by teacher Mimi (Prop. Zosima Medrano), Early Literacy Clinic (ELC) has a good support and foundation and we're lucky to be strategically located within the school perimeters. Google up teacher Mimi  (keyword: "Zosima Medrano") and find out more about her background; a dedicated educator and a very simple individual.
Last March 22, 2013, Early Literacy Clinic (ELC) celebrates its Recognition Day with their 27th Batch moving up to higher level of learning. I humbly congratulate our amazing child being the Top 1 – ELC Gold Medal Award from this batch (Prep – Magnolia section) and earning 6 academic awards and 1 character award:
Best in Mathematics
Best in Science
Best in Reading (English)
Best in Expressive Writing (English)
Best in Oral Communication (Filipino)
Best in Expressive Writing (Filipino)
Best in Creative Arts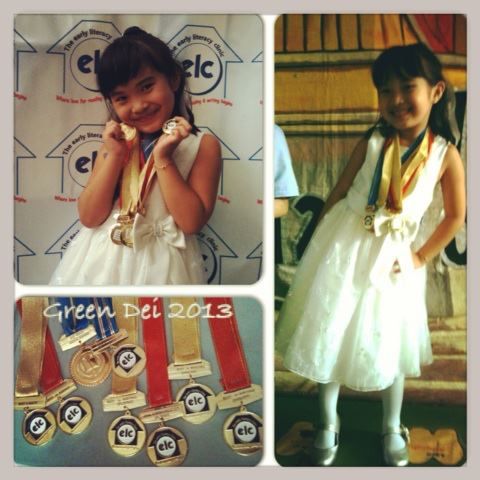 Last school year (2011-2012) when our child spent Kinder (Jasmine section), she move up with Best in Mathematics and Best in Creative Arts awards. For a five year old preschooler, we were surprised with the achievement she received. It's not just all about play, horse riding and fun for a preschooler, those grades were patent from the child's combined written examination and over-all classroom performance. She showed interest in reading books and can independently read children story books at age 4.10. Back home, we pampered her with lots of sketch pads, writing notebooks and construction papers to doodle at. Combined with different type of media: crayons, pastels, watercolors, acrylics, colored pencils, markers, etc. And more puzzles, wooden puzzles, board games and educational websites to mix and match her mood. Will share more ideas maybe in the next post on how to enrich your kids with different activities.
With proper guidance and balanced activities (from the family side) and having a passionate and highly qualified teachers, I proudly say we did a great job cool moms! 🙂 I salute my co-parents who bring their child every day at school (the same status I did), it's a worthy task and immeasurable love for our children. How I wish we all retain the same energy, enthusiasm and a child upbringing until the day they can independently move on their own.
Moving Up!
The next challenge is to search for a compatible school located near our location. We will update you about our grade school journey soon! How about you parents, share us your child's great adventure. 🙂
UPDATE (September 2013): Currently my child is enrolled in a private montessori in Quezon City. The last thing I heard about ELC management, one of the teacher who handled my child's batch is no longer connected with the school.  I am not sure how this review will remain as is and affect the ratings I previously made, because teaching method and source materials for progressive schools varies from one teacher to another. Teacher Mimi still handles the school curriculum. Again, all the reviews I made was only applicable from academic year (AC 2011-2012 and 2012-2013).
Related Topics:
UPIS: UP Kindergarten Admission Test 2013 Result
Early Literacy Clinic : Hello World, Here I Come!
We pray for children by Ina J. Hughs
Galileo Singapore Math: Unlocking the Secrets
Singapore Math: Galileo Enrichment Learning Program in Diliman Prep School
Feedbacks for Kinderheim for Incoming Nursery/Kinder (SY 2011-2012)
Quezon City: EARLY LITERACY CLINIC (ELC)
2nd Singapore Math Learning Festival Round-up
Parenting: Summer Activities For Kids
The 1st Philippine Brain-based Learning Conference Round-up
Philippine Basic Education Curriculum – In Full text
The Philippine K-12 Curriculum – In Full Text
BrainFit Studio Philippines: Building Brain Fitness for Kids and Parents
DeiVille.com
, created by Green Dei (Daryll)
Follow
@GreenDei
and Like our Official Facebook Page:
Dei-Ville
Write us at darylldial(@)gmail(dot)com for tips on consumerism, digital marketing, social media scenes and SEO.
Disclosure:
This article is being published based on my written opinions and materials sourced from Early Literacy Clinic from two school years we are enrolled. No business relationship involved with any company or organization promoting this event.