Dulaang UP: Ang Huling Lagda ni Apolinario Mabini
Dulaang UP Celebrates Apolinario Mabini Sesquicentennial Through New Quintos Play "Ang Huling Lagda ni Apolinario Mabini"
Art PH
Manila Activities
Travel Philippines
Writers of the Philippines
Philippine Education
Manila, Philippines – The troika which is part of the hugely successful musical Ang Nawalang Kapatid– Dexter M. Santos (director), Floy Quintos (playwright), and Krina Cayabyab (music director) collaborate once more in a play celebrating the sublime paralytic's 150th birth anniversary. Ang Huling Lagda ni Apolinario Mabini chronicles the last days of Apolinario Mabini's exile in Guam and explores the conditions which spurred him to return to his homeland.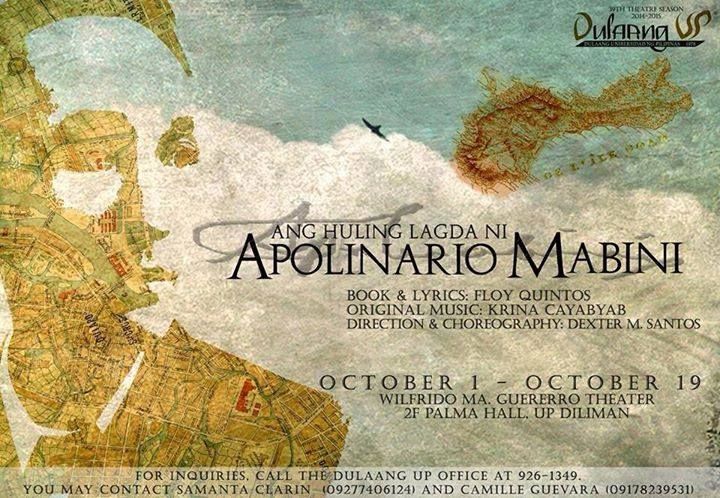 Ang Huling Lagda ni Apolinario Mabini is a one-act play that begins in April 1901, one late afternoon on a beach in Guam. The exiled Apolinario Mabini and his brother Prudencio receive bitter news from fellow exile, General Artemio Ricarte. Emilio Aguinaldo has signed the oath of allegiance to the United States. The news brings back memories of the Revolution to which Mabini devoted so much of his life. The man known as the most consistent opponent of American sovereignty must now contemplate his own signing of the oath of allegiance.
In 1903, on board the S.S. Thomas, Mabini, Ricarte and Prudencio take in their first glimpse of Manila since their exile. Yet in order to disembark as free men, they must first pledge allegiance to the US. General William Taft appears and makes this condition very clear, in the process almost breaking Mabini. A Filipina nurse, Salud, ministers to Mabini. Their encounter changes Salud forever, as it does the homesick Mabini.
Ang Huling Lagda ni Apolinario Mabini, perhaps, the most significant contribution of the local theatre scene to the celebration of the sesquicentennial of Apolinario Mabini. While the musical explores the private pain of a hero forced to swear allegiance to the USA, Ang Huling Lagda ni Apolinario Mabini also instills a new pride and importance in his greatest work- the True Decalogue. The musical also allows audiences to familiarize themselves with the value of Mabini's greatest opus and strengthen our sense of duty to our country.
The cast is topbilled by veteran stage actors Roeder Camañag, Leo Rialp, Jean Judith Javier, Banaue Miclat, Al Gaimatan and Nazer Salcedo. An ensemble of promising actors comprise the formidable supporting cast- Ralph Oliva, Chase Salazar, Adrian Reyes, Arion Sanchez, Bym Buhain, Edmundo Abad, Jr., Ralph Perez, Ross Pesigan, Roco Sanchez, Rence Aviles, Jon Abella, and Vincent Pajara.
Ticket Rates:
Tickets are priced at Php 350.00
*UP Diliman faculty members and enrolled students are entitled to a discounted price of Php 160.00
Playdates:
First Week
October 1 – 7:00 PM
October 2 – 7:00 PM
October 3 – 7:00 PM
October 4 – 10:00 AM; 3:00 PM
October 5 – 10:00 AM; 3:00 PM
Second Week
October 8 – 7:00 PM
October 9 – 7:00 PM
October 10 – 7:00 PM
October 11 – 10:00 AM; 3:00 PM
October 12 – 10:00 AM; 3:00 PM
Third Week
October 15 – 7:00 PM
October 16 – 7:00 PM
October 17 – 7:00 PM
October 18 – 10:00 AM; 3:00 PM
October 19 – 10:00 AM; 3:00 PM
Ang Huling Lagda ni Apolinario Mabini runs from October 1 to 19, 2014 at the Wilfrido Ma. Guerrero Theater, 2nd floor Palma Hall, University of the Philippines Diliman. For tickets, sponsorships and show buying inquiries, call Samanta Hannah Clarin or Camille Guevara 926-1349, 433-7840, 981-8500 local 2449 or email dulaangupmarketing@gmail.com.
DeiVille.com, created by Green Dei (Daryll Villena)
Write us at darylldial(@)gmail(dot)com for tips on entrepreneurship, consumerism, digital marketing, social media scenes and SEO.
If you find this post helpful, informative or entertaining, feel free to SHARE it.
Get instant updates from deiville.com on:
Facebook | Twitter | Instagram | Google + | Pinterest
I'd love to know what you think about this post. Feel free to leave your comment.
I do reply to each of your messages or questions so please come back if you've left one.
Disclosure: This is a media partner post and deiville.com blog  did not received any compensation for review and sharing this post. Regardless, all opinions are my own  and sourced from Dulaang Unibersidad ng Pilipinas (DUP); may or may not differ from yours. I only recommend, discuss or introduce my reader to products/services/businesses I would or do use myself.