Tech-Voc Education: Raising the bar for Licensure and Board Examination
A Call to Action – Licensure for Technical-Vocational Courses
Tony Galvez Tech-Voc Licensing
Philippine Education
Tech-Voc Advocacy
Entrepreneurship
Tech-Voc Education
Tech-Voc graduates/professionals are considered a legit paid occupation largely if one involves prolonged training and has attained a formal qualification. In fact in industrialized countries like Japan, USA, Canada, Australia and Europe they give high regards to skilled and licensed tech-voc professionals owing to the fact that they are globally competitive brought about by high standards of education they acquired. In return these practitioners pay taxes making the country's socio-economic ranking more progressive.

Tony Galvez with Technical Vocational Schools Association of the Philippines Quezon City Chapter (Tevsaphil-QC)
Tony Galvez spearheaded the tech-voc advocacy that aims to professionalize the industry by lobbying Technical-Vocational graduates to be transformed into licensed professionals. His group seeks to influence politicians or public officials on this issue and push forward further discussion so the public may be aware of its importance in uplifting the image of tech-voc education to a higher level through professionalization and licensing.
Tevsaphil-QC aims to raise the level of tech-voc education and the competitiveness of its graduates to be on a par with global and international standards. To do this, the group vows to lobby in the 16th Congress for the passage of a bill, which will be entitled "An Act Regulating the Practice of Technical Vocational Professions in the Philippines, Creating for the Purpose a Regulatory Board for Technical Vocational Professions." The bill will push for the licensing of courses such as cosmetology, emergency medical services, plumbing, carpentry and housekeeping.

"Our government can look into the idea of licensing vocational graduates. To license the application of vocational courses will convert vocational graduates to professions of dignity and public recognition," said Tony Galvez, president of Tevsaphil-QC and the Tony Galvez Group of Companies.

Source: http://www.businessmirror.com.ph/index.php/en/features/education/14710-group-wants-to-professionalize-tech-voc-ed-launches-photo-contest
Tech-Voc Education in the Philippines
Why are we left behind? During Marcos era, the Philippines sells and exports Filipino products and we are globally at par with authentic and quality goods. Today, the government supports manpower services. We shipped off tech-voc graduates, undergrads or even High School graduates to served as household aides, servant, housemaid, domestic, housekeeper; help, cleaner, contractual construction workers. Eventually they remit dollars, which the country needs as reserves and expenditures, they were hailed as modern day heroes. At the other side of the globe Filipinos were booed, belittled and degraded. Our government made LABOR literally a product (for export).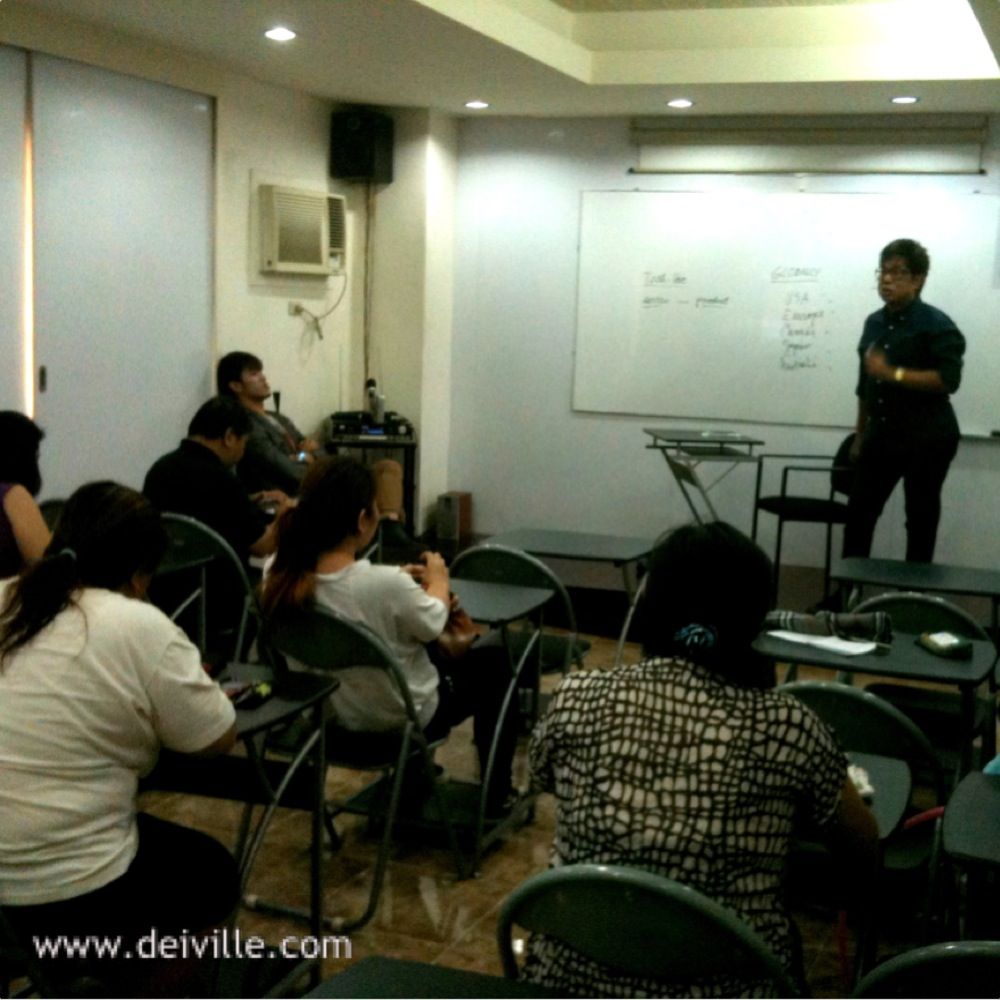 Even if they were highly-skilled, they are not considered as professionals more so they lack the licensed to handle the job, TESDA's promised for the poor to give them jobs remains discerning. These jobs are considered low standard, while the government tied-up with the ASEAN (note that these are alliances with fellow Third World countries). If you were to adopt global improvements might as well join and learn from the means of successful countries. Our government has to prioritize and provide education, employment, career assessment among all other things. You do not manually feed your people; you give them the seed in order to grow independently. Tech-Voc Education in the Philippines has been dubbed to support poor high school graduates (because they cannot afford college education) or those with low IQ, or those who are not interested with formal schooling. But tech-voc professionals are highly in demand abroad, however they are required to pass the global standards and board examination in order to get a legit license. When a skilled worker applies for a job abroad, employers or its government requires them to take up the corresponding tech-voc advanced and mastership studies to be considered professional in the field of that industry.
Tech-Voc Education in the Philippines has not adopt granting or regulation of licenses. Again, in foreign countries the same profession equipped with talent and skills have licensed that serves as Consumer Protection. In the Philippines, some service-oriented jobs (cosmetologists, plumber, carpenter, auto-technician, etc.) are not protected and lacks quality in service. Others did not undergo proper training – learned only through daily encounters, with the absence of science and theories. It's a common scenario to get the service of a plumber (a complete stranger) whose contact details you've seen from an electric post outside your community, not knowing where he learned his technical knowledge/professional background and ends up doing sub-standard task (since your plumber is not a licensed profession) he gets away in paying you back for supposed damage he may incur. You are not protected as a consumer because there's no existing branch of office to file complaint.
Technical Education and Skills Development Authority (TESDA) Training
So we asked, what does TESDA's certification serves for? A piece of paper that certifies you have attended the training but not an extensive training. TESDA's tech-voc courses offer only skills and training without higher education tied with certification that is not honored by other countries.
TESDA is said to follow Philippine Qualification Frameworks (PQF), as seen from the image below: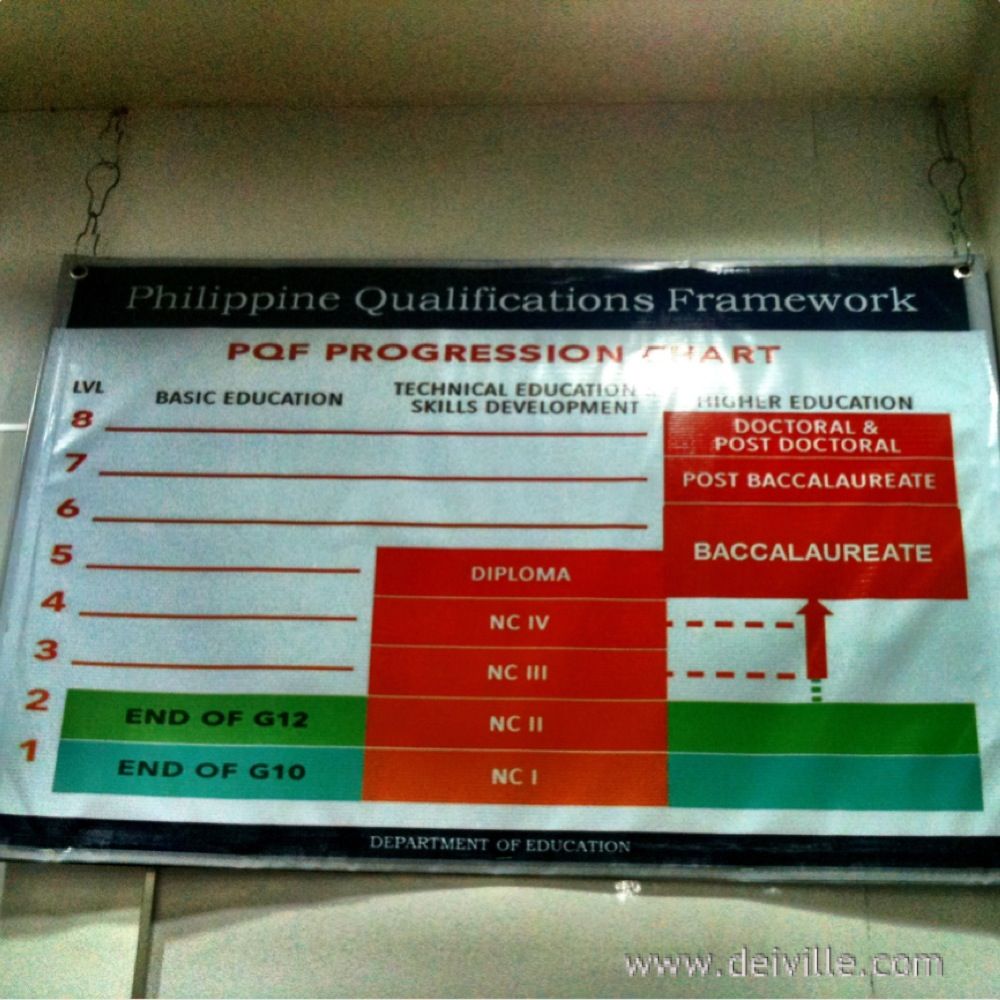 Philippine Education system has already adopt K12 Curriculum —- government has stated that with G12 (H.S.), when High School students graduated they  can seek job easily with the Technical Livelihood Education (TLE) program which is the counterpart of TESDA's National Certificate II (NC II). Which are deemed not acceptable with the global/International standards. If TESDA is to follow global competitiveness, the branch needs to offer the whole course from National Certificate I (Employment) to National Certificate IV (Service and Entrepreneurship). Right now TESDA offers NC I (Basic Level) up to NC II (Prerequisite Level) and then issue a certificate to tech-voc graduates. Note that NC III (Advanced Level), NV IV (Mastership, Board Exam) and Diploma are not offered by the government, somehow it is being controlled for political purpose. That is the question, why not offer advance studies? Who's stopping to put up a regulatory board? TESDA claims they have full support to achieve global standardization nonetheless NC II graduates are pulled-out to join the bandwagon of OFW's — they give JOBS right (the promise for the poor)? NC II OJT's (270 hours) is considered half-baked, frankly these students did not reached global standard level (did not earned up to NC IV Level). Still the government even offers FREE training  (another major cause why tech-voc school in the Philippine shuts down) and earned the badge of modern day heroes.  FACT: TESDA and the government do not comply with the objective of the country to become globally competitive. They want  its people to remain poor, idiotic, underdogs, voters;  eventually to support them on their political endeavors.
Licensing the tech-voc occupation will give respect for the graduates, I really hope someone influential could bang the drum and make a law that needs to pass Professional Regulatory Licensing board for technical-vocational education, and will finally make it a PROFESSION not a VOCATION.  From that day on tech-voc grad will stand with pride and dignity. Tony Galvez and his group's advocacy will surely benefited the future generation, there will come a time when your child or nieces/nephews wants to be a cosmetologist (note that cosmetology have 4 main branches: hair care, skin care nail care and salon business – all four are sub-divided into basic and advanced levels) it's not just a mere "taga-kulot" "parlorista" or "manicurista"  that we make fun of  in comedy spiels (soon freelancer will aged, phased out) and will be replaced by professional qualified hair stylist or nail care expert. They will earn the badge, become entrepreneurs, pay the right taxes and provide employment – it's a chain reaction; then the tech-voc industry will flourish together with the country's economy.
View more photos from Tony Galvez: Tech-Voc Education Licensing BlogCon
Related Blogs by Tech-Voc Advocates
An Eye Opening Conversation with Tony Galvez Regarding TechVoc Licensing
Are TESDA Graduates Half-Baked? (Need for Licensing for our Skilled Workers)
UPDATES (as of May 20, 2014)
Tweet reply came in from TESDA Sec. Joel Villanueva, from the retweet I made for Ia Adam-Lim's blog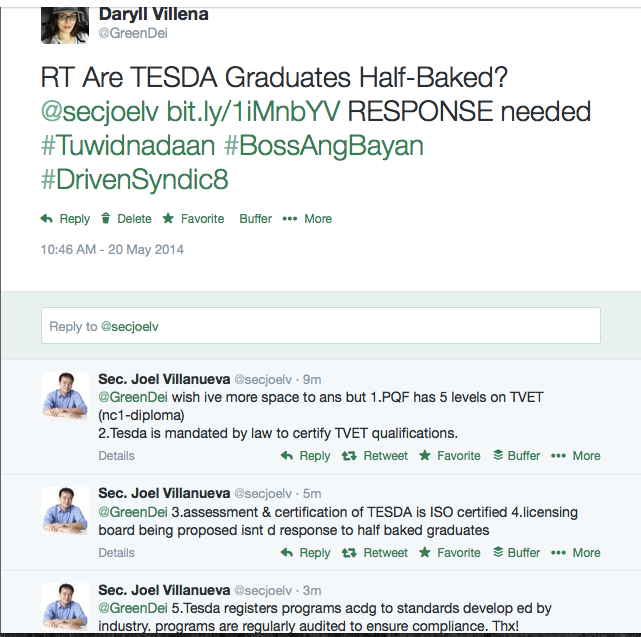 Related topics:
Entrepreneurship: I Wish They Taught Money in High School
Entrepreneurship: Super Cuts Franchising
Entrepreneurship: Premier Thought Leaders Conference – The Next Best Selling Authors
Big Boss Summit: 10 Strategies of a Champion Entrepreneur
DeiVille.com, created by Green Dei (Daryll Villena)
Write us at darylldial(@)gmail(dot)com for tips on entrepreneurship, consumerism, digital marketing, social media scenes and SEO.
If you find this post helpful, informative or entertaining, feel free to SHARE it.
Get instant updates from deiville.com on:
Facebook | Twitter | Instagram | Google + | Pinterest
I'd love to know what you think about this post. Feel free to leave your comment.
I do reply to each of your messages or questions so please come back if you've left one.
Disclosure: This is a sponsored advocacy post and deiville.com would like to thank Tony Galvez for inviting us to his Tech-Voc Education Advocacy BlogCon. Regardless, all opinions are my own  and based from the forum/conversation the bloggers had with Mr. Galvez; may or may not differ from yours. I only recommend, discuss or introduce my reader to products/services/businesses I would or do use myself.
Sharing is caring!
About Author
Green Dei
A social media practitioner and digital branding specialist with an alter ego of "Green Dei" in the digital arena, she curates page for entrepreneurship, creatives and community. Daryll Villena is the Chief Editor and creator of DeiVille, Foodamn Philippines, Public Toilet Philippines, and Storytelling Philippines. Connect with her on Instagram via @greendei and on Twitter @greendei for useful tips on digital branding, entrepreneurship, consumerism, parenting, health talk, women talk, Pinoy travels and Manila lifestyle. For collaborations and proposals email her at deiville.com(@)gmail(dot)com