Teach for the Philippines Organization: An Opportunity to Teach
TEACH FOR THE PHILIPPINES
An Opportunity to Teach
Teach for the Philippines enters the 4th cycle (April 2016) the organization are looking for more applicants with the passion to teach. Regardless of educational background, as long as you are: Filipino Citizen and have graduate any 4 year degree course or an undergraduate with at least an average of 2.50. You can apply.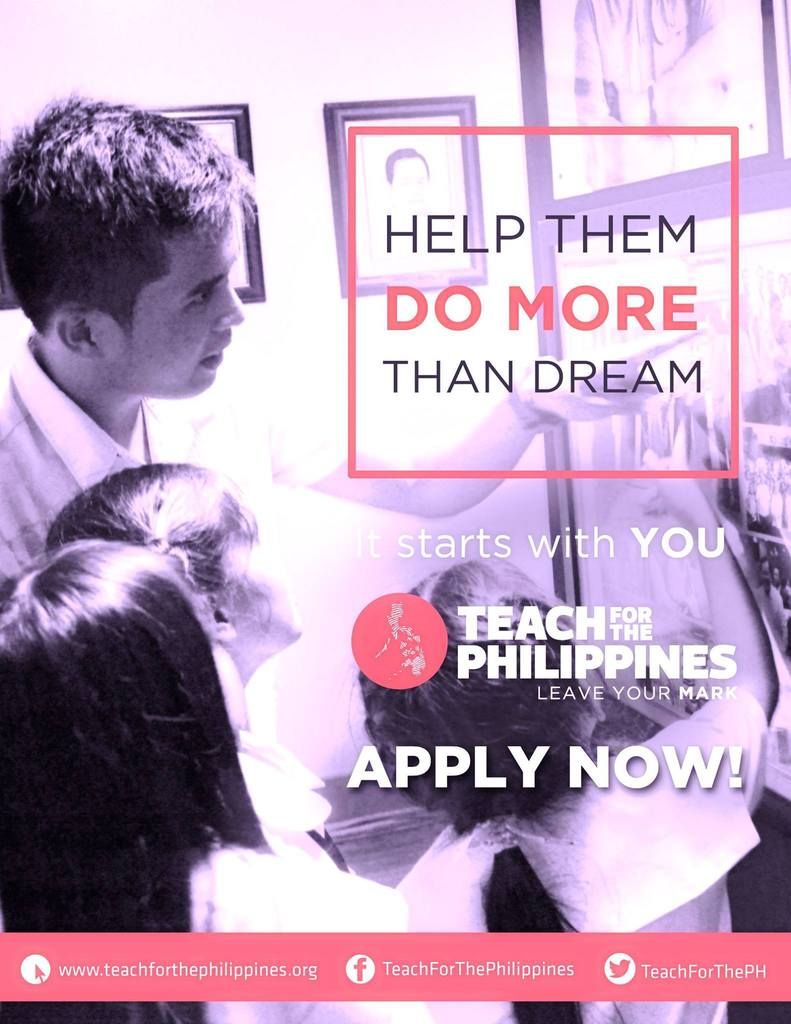 Who Can Apply
Interested applicants must have the following:



Filipino Citizenship or proof of eligibility to hold a Philippine Passport.
A Bachelor's degree before the start of Summer Institute in April 2016.
Candidates who will be graduating while Summer Institute is in session (April and May) are still encouraged to apply provided they can present documentation of eligibility to graduate before June 2016.
A minimum undergraduate cumulative grade point average (GPA) of 2.50 on a scale of 4.00.
An applicant must have a GPA of at least 2.5 on a 4-point scale at the time we receive your application but more importantly upon graduation. The applicant's official Transcript of Records (or true copy of grades for graduating students) will be used as reference. Use this guide to check your current standing or to convert your final grade.
A commitment to the organization's Vision and Mission, and alignment with the organization's Core Values
A flexibility and willingness to work in any placement school (primarily elementary public schools, located within or potentially outside the NCR)
Not eligible for the Fellowship?
Even if you do not possess all the pre-requisites mentioned above, you can still make a difference. See how else you can get involved through their  Civic Engagement Program from TFTP website.
Register at http://www.teachforthephilippines.org/fellow-…/how-to-apply/
Teach for the Philippines offers a 24-month full-time fully paid teaching job in Public Schools, with or without LET. It offers a 24-month leadership development program, an opportunity to be part of a globally recognized network (Teach for All) and an alumni pathway where you are provided with a mentor that guides you through your career choices. Become the change you want to see.
For questions please feel free to e-mail: recruitment@teachforthephilippines.org or call at 0917 881 8740.
Teach for the Philippines
www.teachforthephilippines.org
Related topic:
college rings from Joy Jewelers
DeiVille.com, created by Green Dei (Daryll Villena)
Write us at darylldial(@)gmail(dot)com for tips on entrepreneurship, consumerism, digital marketing, social media scenes and SEO.
If you find this post helpful, informative or entertaining, feel free to SHARE it.
Get instant updates from deiville.com on:
Facebook | Twitter | Instagram | Google + | Pinterest
I'd love to know what you think about this post. Feel free to leave your comment.
I do reply to each of your messages or questions so please come back if you've left one.
Disclosure: This is a press release post and deiville.com blog did not receive compensation for review and sharing this post. Regardless, partial opinions are sourced from Teach from the Philippines; may or may not differ from yours. I only recommend, discuss or introduce my reader to products/services/businesses I would or do use myself.
Comments
comments