SEMCON 2013: Advanced Search/SEO Training Course Round-Up
Round-Up on Advanced Search/SEO Training Course
Pre-Conference Training Course to the 7th Search Engine Marketing Conference 2013 (SEMCON 2013)




Asian Institute of Management Conference Center
Makati City, Philippines
Internet Marketing
Social Media Philippines
Business Seminar
Blogging Community
Organized by Fiera de Manila Inc.
Manila, Philippines October 29, 2013. Deiville will be sharing a few points of (but limited) discussions from what we had learned from this conference, most of the speakers engaged in highly advanced search and seo tactics. And it was worth attending FMI's event to be able to grasp the real-time trends and behavior in internet marketing.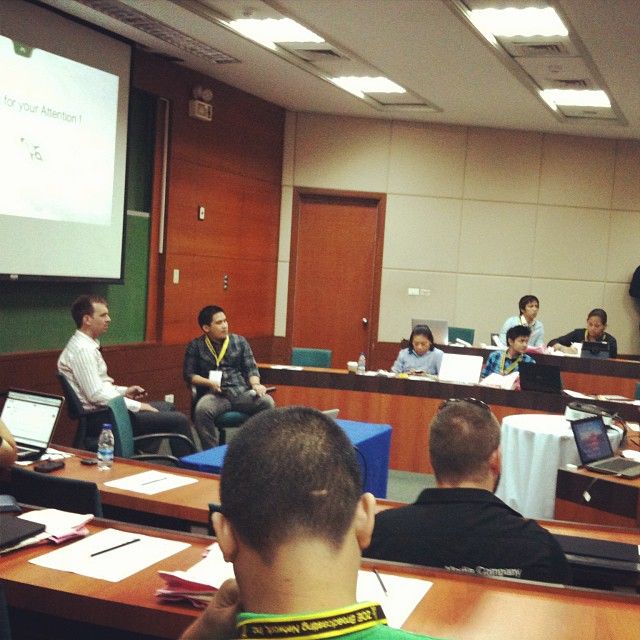 The topic/speaker outline:
Leveraging on Success of Search: A Case Study by Richard Greenwood (an SEO Strategist for Dejan SEO Australia)
– Outreach to grow authorship
– Solution to estimate conversion
– Link consolidation
– Research Analysis
Harcore SEO Power Tools – Panel Discussion participated by Simon Torring (Head of SEO for Luxulo.com), Tof Salcedo (Founder and Director of SEO Pinas Webconsulting and Design), and Anton Sheker (SEO Manager for Become.com)
– Link Research Tools
– Screaming Frogs
– Search Metrics
– Google Advance
– Google Analytics
– Buzz Stream
– Mention
– Scrapebox
– Bright Edge
Reputation Management by Daniel Turner (Co-Founder Mercurian Media, CEO and Co-Founder for Simply Group
– "A brand is a perception"
– applies to people, company or country
– "Be careful what you put in the web"
– "The Net treats censorship as a defect and routes around it." ~ John GIlmore, 1993
– "What you put in the net, make sure it's in alignment with your business plan"
– Types of reputation management: damage control and brand advocacy
– "Mommy bloggers are nasty" 🙂
– It's not about the story, it's the angle of the story
– There's no White Hat, everyone is Gray
– Black Hat could be gray or vice-versa
WordPress Optimization by Michael John Lopez (Lead Developer for WishList Products)
– WordPress core
– Cache you content
– Clean Up
– Validate Markup
– Check Page Load Speed
– Optimize Speed Load
– Minify
– Support multiple devices
– Server enhancement
– Better web hosting
– Search engine optimization
– Avoid like the plague
Organic Keyword Research and Selection by Tof Salcedo (Founder and Director of SEO Pinas Webconsulting and Design)
– Basic keyword research tools: google keyword planner, wordtracker, ubersuggest, soovle
– Advance primary keyword sources (sources with multiple combination will not mention here)
Google Penalties: Diagnosis and Recovery (Case Study) by Israel Nicolas (replacing Marc Lindsay) for Mercurian Media Australia
– Badges and partnered link are bad links already
– Tools: competitive backlink research, cognitive seo, visual website optimizer, optimizely, majestic seo, moz, link research tool, buzzstream.
Proving the Value of Your Search Campaign: Tangible SEO Metrics Through Analytics by Jimmy Cassells (Managing Director for Spiralytics)
– Internal SEO metrics
– Search queries: Report location
– Acquisition
– Link profile (penalty risk)
e-Commerce Optimization Tactics by Simon Torring (Head of SEO for Luxulo.com)
– "SEO is a game of prioritization"
– "SEO is much easier if your team understands it"
– "SEO is simple to explain, hard to track"
– how to deal with the lack of Google data
– Verticals: category ages, product pages, brand pages, editorial content and sitemaps
– link building, structure outreach
View complete photos/images from SEMCON 2013: Advanced Search Engine/SEO Training Course. The speakers  all showed how dynamic and proven their skills ,  sounded with individual distinct aura, not to mention the passion and the generosity to share the relevant topics.
Deiville would like to congrats and thanks the whole team behind Fiera de Manila, Inc. for an intensive conference and gatherings of qualified Search/SEO strategists. Kudos to your efforts beautiful people!
DeiVille.com, created by Green Dei (Daryll Villena)
Write us at deiville.com(@)gmail(dot)com for tips on digital branding , entrepreneurship, consumerism, parenting, health talk, women talk, Pinoy travels and Manila lifestyle.
If you find this post helpful, informative or entertaining, feel free to SHARE it.
Get instant updates from deiville.com on:
Facebook | Twitter | Instagram | Google + | Pinterest | YouTube
I'd love to know what you think about this post. Feel free to leave your comment.
I do reply to each of your messages or questions so please come back if you've left one.
Disclosure: DeiVille receives products in order to conduct reviews. No monetary compensation was provided unless noted otherwise. All opinions are 100% my own. Some posts may contain web links in exchange for payment. In the event of a giveaway, the sponsor is responsible for delivery of the prize, unless otherwise noted in the posting. I only recommend, discuss, or introduce products/services/businesses I personally use and believe will be a good fit for my readers.
Sharing is caring!
About Author
Green Dei
A social media practitioner and digital branding specialist with an alter ego of "Green Dei" in the digital arena, she curates page for entrepreneurship, creatives and community. Daryll Villena is the Chief Editor and creator of DeiVille, Foodamn Philippines, Public Toilet Philippines, and Storytelling Philippines. Connect with her on Instagram via @greendei and on Twitter @greendei for useful tips on digital branding, entrepreneurship, consumerism, parenting, health talk, women talk, Pinoy travels and Manila lifestyle. For collaborations and proposals email her at deiville.com(@)gmail(dot)com