Product Review: Proactiv Solution Renewing Cleanser
Proactiv Solution Renewing Cleanser
Proactiv Solution
Product Review
Consumerism
Proactiv Solution Philippines
Why is Proactiv Renewing Cleanser superior than regular cleanser / soap?
While it may seem counter intuitive, harsh scrubbing does not unclog your pores any better than gentle cleansing, and may actually worsen your acne. Cleansing and scrubbing only reduce surface oils and dean skin cells. Many people use harsh products, laden with alcohol and foamy surfactants (detergents) somehow wash the acne off their skin. However, these actions produce irritation and worsen acne. It is possible to gently unplug pores with fine polyethylene beads that gently relieve impacted pores without irritation.
Benefits of Benzoyl Peroxide
Proactiv Renewing Cleanser is an oil free, soap free medicated formula contains advanced micro crystal benzoyl peroxide in combination with mild cleanser that lightly washes the skin. Tiny beads gently exfoliate dead cells and impurities so they can't clog pores. The benzoyl peroxide penetrates the pores fast while being gentle to the skin. It attacks, kill acne-causing bacteria and reduce the number of acne pimples.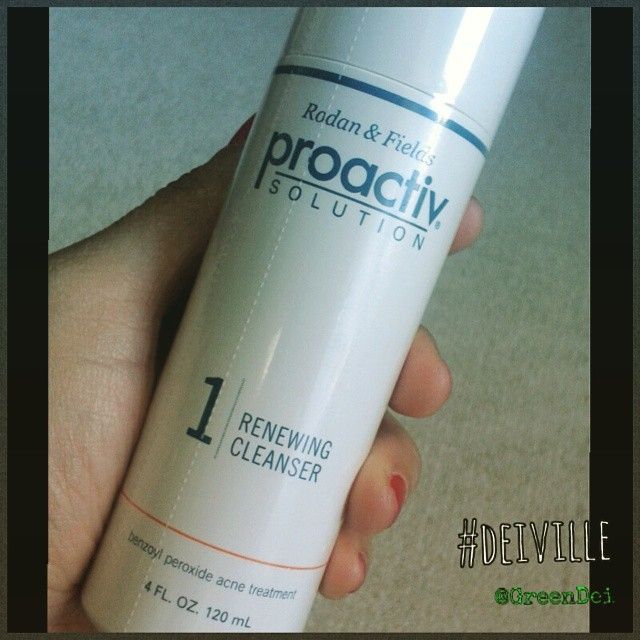 Key Ingredients

Benzoyl Peroxide This is the key anti bacterial agent to fight acne. The 2.5% concentration is just effective as 10% solutions in controlling the majority of acne cases and much gentler to your skin. This low concentration gives it the acne-fighting benefit of even higher concentrations, but not the side-effects!
Other Ingredients Include
Sodium Hyaluronate This mucopolysaccharides act as humectant to draw moisture to skin. Mucopolysaccharides are gel like substances surrounding the collagen and elastin in the dermis layer of the skin. Polyethylene These small round beads have no sharp edges that can tear and scratch the skin while they gently remove old, dead cells. Anthemis Nobilis Flower Extract A botanical extract known for its soothing properties.
Directions to Use
Best to use morning and night.
Apply a small (dime-sized) amount to damp skin and gently massage for 1 to 2 minutes.
Rinse thoroughly with warm water.
Path dry If bothersome dryness or peeling occurs, reduce application to once a day or every other day.
If going outside use a sunscreen.
Proactiv Renewing Cleanser does not contains any surfactants that can harsh the skin.
Proactiv Renewing Cleanser is formulated without the harsh detergents known as surfactants found in many other cleansers. Surfactants, which are responsible for a sudsy foam and lather, strip skin of its essential oils. As a result, the skin barrier becomes damaged and vulnerable to irritation and impaction.
What is the role of Renewing Cleanser in Proactiv Combination Therapy?
The Renewing Cleanser help removes dead skin cells and impurities which can clog the pore.
The advanced microcrystal benzoyl peroxide in the Proactiv® 3-Step System kill acne-causing bacteria while the glycolic acid and other exfoliants reduce excess oils and dead skin cells.
The Proactiv Renewing Cleanser is included in the Proactiv Solution 30-day and 60-day kits. Proactiv Solution kits are available at:
a. Proactiv Online Shopping: http://my.proactiv.com.ph
b. Proactiv Delivery Door–to-Door Hotlines:
Metro Manila Landline: (02) 729-2222
Globe Provincial: 1-800-8-729-8888
PLDT Provincial: 1-800-10-889-4444
Mobile Number: 0917-801-888
c. Proactiv Mall Kiosks
Glorietta, Ground Floor
Trinoma, 2nd Floor
d. Watson and SM Department Stores (Beauty Section) nationwide
Proactiv Solution Philippines
[e] inquire@proactiv.com.ph
[t] Customer Care (632) 729-2222 (Monday – Saturday, 10am – 7pm)
[w] http://www.proactiv.com.ph/
DeiVille.com, created by Green Dei (Daryll Villena)
Write us at darylldial(@)gmail(dot)com for tips on entrepreneurship, consumerism, digital marketing, social media scenes and SEO.
If you find this post helpful, informative or entertaining, feel free to SHARE it.
Get instant updates from deiville.com on:
Facebook | Twitter | Instagram | Google + | Pinterest
I'd love to know what you think about this post. Feel free to leave your comment.
I do reply to each of your messages or questions so please come back if you've left one.
Disclosure: This is a sponsored post and deiville.com blog received a compensation for review and sharing this post. Regardless, all opinions are my own and sourced from Proactiv Solution Philippines; may or may not differ from yours. I only recommend, discuss or introduce my reader to products/services/businesses I would or do use myself.