Parenting: Geronimo Stilton Academy Pawbooks by Scholastic
Scholastic's Geronimo Stilton Academy Pawbooks Trade Launch
Geronimo Stilton Academy Pawbooks are workbook series based on the Geronimo Stilton title book; it aims to provide educators and parents a fun way to enrich young minds to become mouse-ter-ful learners. These pawbooks makes it easy for parents like me to support my child with learning supplements to influence her to expand her vocabulary through the love of reading and composing her own storyboard. Looking through the pages I noticed the similarity of school tasks they are at the moment covering, which I thought will boost her learning capability and study habits by accessing other topic exercises like that from the Pawbooks. Prior to that she often goes home with a borrowed Geronimo Stilton/Thea Stilton/Creepela Von Cacklefur book from her school's library, so the pawbooks and her collection of Thea Stilton jives well with her interest without pushing her too much.
The activity books include excerpts from the book series to train and develop children's interest in Geronimo Stilton books and later on the process  to improved their literacy skills through task-oriented activity. Most importantly to motivate learners to become mouse-terrific readers and writers.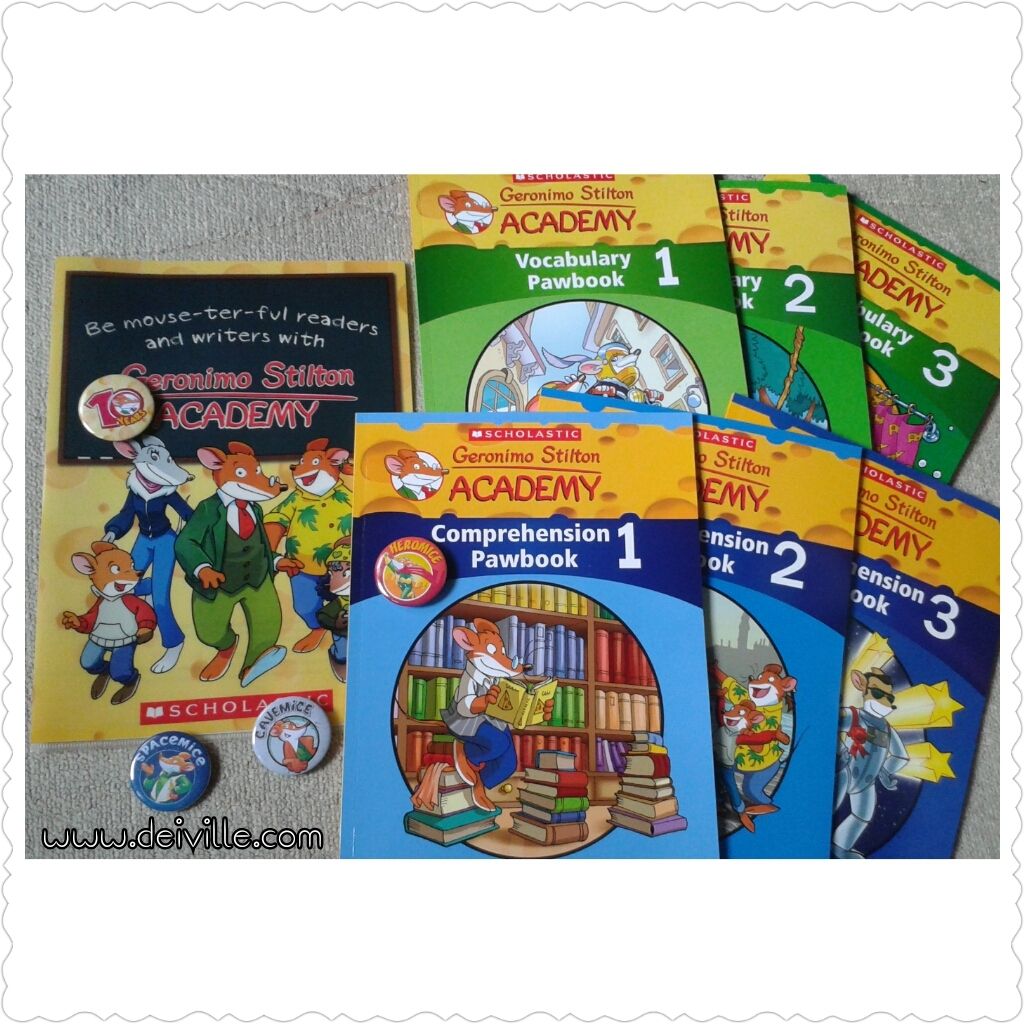 Geronimo Stilton Academy Pawbooks are categorized by level of learning


Comprehension Pawbooks – Level 1,2, and 3
The comprehension pawbooks displays a full color pages  and witty text fonts with engaging graphics the same way from Geronimo Stilton book series while developing the child's comprehension skills and understanding words/expanding their vocabulary.
Pawbooks Level 1 – focuses to broaden the skills of: predicting, inferring, sequencing, comparing, and contrasting, recalling details and main ideas.
Pawbooks Level 2 – all skills from Level 1, drawing conclusion, and summarizing
Pawbooks Level 3 – all skills from Level 1 and 2, giving reasons, and stating opinions and point of view
Vocabulary Pawbooks – Level 1,2, and 3
The vocabulary pawbooks displays a full color pages that includes word search box, mind-mapping and glossary.
Pawbooks Level 1 or Junior Level – focuses to broaden the skills of: word formations, word and sentence level activities — theme-related nouns, verbs, suffixes, adjectives and synonyms.
Pawbooks Level 2 or Senior Level – word formations, sentence and short text level activities — prefixes, synonyms/antonyms, word clines, idioms, onomatopoeia
Pawbooks Level 3 or Master Level- word formations, sentence and test level activities — theme-related words and phrases, synonyms/antonyms, prefixes and suffixes, word clines and word analogies.
After each story,  pawbooks has lined up with sequential or random Q&A for your child to undermine the level of understanding. Structured ideas are also encourage by coming up with every child's reflection from the story. Typical workbooks appears to some children as less attractive, with Pawbooks exciting page-by-page activity children tends to finish the task faster than expected. They even asked questions pertaining to "new words they've discovered" from time to time you will listen to your child  acting like a storyteller, you know how kid's get thrilled with the things they like most.
The trade launch here in Manila was held last August 22, 2015 at the Powerbooks Greenbelt 4. Kids were treated to bonding activities with their moms and dads, mascot appearances by Geronimo Stilton and his sister Thea Stilton, book stamping and a bundle of Geronimo Stilton books were given away. Thanks Scholastic!
See more photos of Geronimo Stilton Academy Pawbooks Trade Launch on our Facebook Page.
DeiVille.com, created by Green Dei (Daryll Villena)
Write us at darylldial(@)gmail(dot)com for tips on entrepreneurship, consumerism, parenting, digital marketing, social media scenes and SEO.
If you find this post helpful, informative or entertaining, feel free to SHARE it.
Get instant updates from deiville.com on:
Facebook | Twitter | Instagram | Google + | Pinterest
I'd love to know what you think about this post. Feel free to leave your comment.
I do reply to each of your messages or questions so please come back if you've left one.
Disclosure: This is a sponsored post and DeiVille is in any way compensated for review and sharing this post. Regardless, all opinions are my own; may or may not differ from yours. I only recommend, discuss or introduce my reader to products/services/businesses I would or do use myself.