Online Giveaway: Deiville + Loudbasstard Collaboration
AMPLIFY YOUR CREATIVITY
Deiville + Loudbasstard Collaboration
Online Giveaway
Entrepreneurship
Earth-Friendly Living Series
Social Media Philippines
A birthday blow-out for one (1) with the most #CreativeMind from deiville.com.
The online giveaway features a unique and truly Filipino product from Cebu entrepreneur – Loudbasstard. The first time I've seen these bamboo amplifiers, I told myself this product will go a long way. Designs are elegant and environment-friendly,  it goes to show that Filipino ingenuity and craftsmanship is something we should rave about and  gain our full support.
More about Loudbasstard
The brand was conceptualized late 2012, the highly appraised Filipino products are made from natural materials and created with passion of skilled and talented Cebuano artisans. Each loudbasstard product is an embodiment of the founders' passion to spread and share the love of music.
The product offers a green alternative to consumers. It is made of bamboo material, requiring no plugs, cables or electricity.​ It suggests as Personal Sound Amplifier, meaning the product not a replacement for an electric speaker. The bamboo helps increase volume, while the cylindrical shape helps direct the sound. It's not necessarily going to be loud enough for a party, but for a few friends around a table or at the beach it's the perfect product.​
"The loudbasstard sound amplifier enables to share music through passive sound amplification. The abundance of natural resources and quality craftsmanship in Cebu are key elements in their design process. Each piece is organically treated to prevent borers and cured to achieve desired moisture level suitable for temperate climates. It is then hand cut, hand dyed, and hand packaged in-house in Cebu, Philippines."​ The bamboo amplifier exudes natural beauty, it features a universal size for all devices — from iPhones, Samsung Galaxy and other smartphones.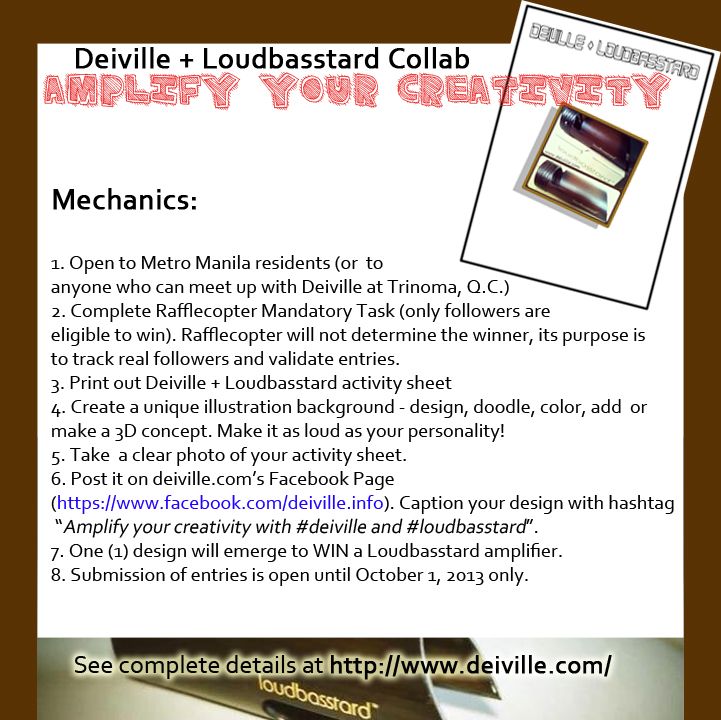 Guidelines:

1. The Deiville + Loudbasstard Amplify Your Creativity  online giveaway runs from September 12 to October 01, 2013 (12AM). Open for Metro Manila residents only or to anyone who can meet up with me at Trinoma, Quezon City.
2. Any kind of medium and method are allowed provided it is manually done and not with computer-assisted graphics print-out.
3. Deiville will strictly monitor Rafflecopter's mandatory task, winner will be chosen with valid entries (social media followers).
4. Print the activity sheet, create your own design and take a photo of your finished work. Post it at deiville.com facebook page .
5. Posting of entries should be caption as "Amplify your creativity with #deiville and #loudbasstard".
6. Additional points will be given to entries with short description upon posting to deiville's facebook wall by answering this question: "How does your entry amplified your creativity?"
7. Deiville encourage participants to use real and active accounts on Facebook, Twitter and Instagram. No dummy and duplicate account please.
8. One (1) winner with the best design will be chosen by Deiville. deiville.com's decision is final.
9. Winner will be published on www.deiville.com and will be announced over at my Facebook Page and Twitter. Also, winner will be notified via email by first week of October 2013.
10.  Failure to do any of the above requirements will be subjected to disqualification.
*Failure to reply/acknowledge the email notification sent to the winner within 48 hours upon receipt of notice, prize will be forfeited and new winner will be selected from the short-listed.
11. Deiville + Loudbasstard Amplify Your Creativity is good until October 01, 2013, 12AM.
a Rafflecopter giveaway
AMPLIFY YOUR CREATIVITY Deiville + Loudbasstard Collaboration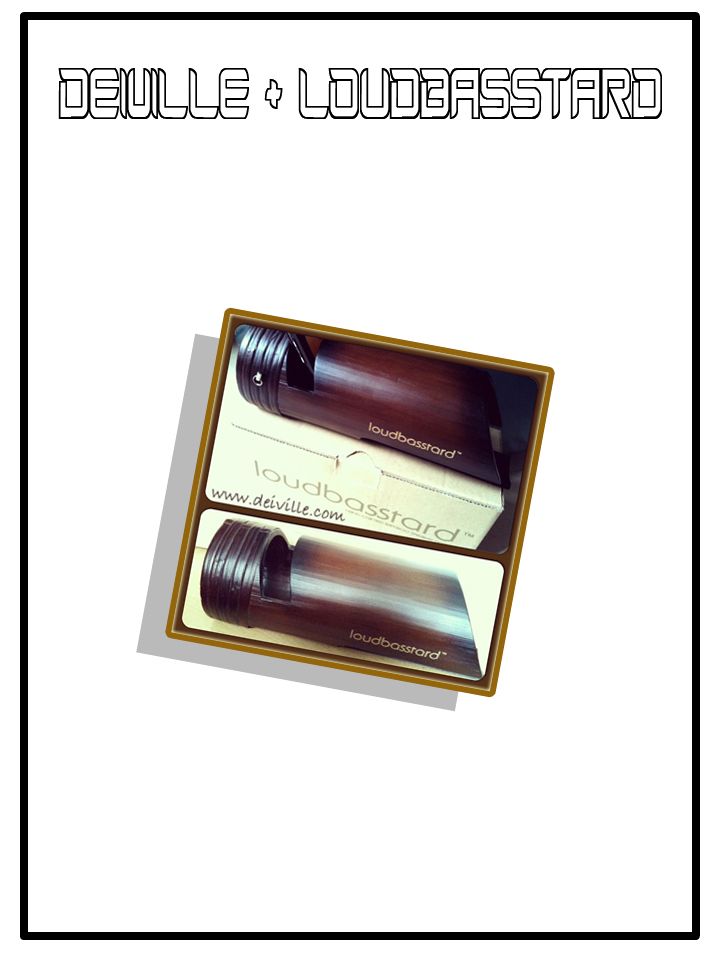 Good luck! I'm looking forward to your creative entries! Start creating and sending them.
UPDATES as of October 16, 2013: WINNER From Deiville + Loudbasstard Collaboration Online Giveaway

DeiVille.com, created by Green Dei (Daryll)
Follow @GreenDei and Like our Official Facebook Page: Dei-Ville
Write us at darylldial(@)gmail(dot)com for tips on entrepreneurship, consumerism, digital marketing, social media scenes and SEO.
Disclosure: This giveaway is in not any way sponsored or affiliated with Facebook, Twitter, and Instagram. Prize was sponsored from our kind friends from Loudbasstard.
Sharing is caring!
About Author
Green Dei
A social media practitioner and digital branding specialist with an alter ego of "Green Dei" in the digital arena, she curates page for entrepreneurship, creatives and community. Daryll Villena is the Chief Editor and creator of DeiVille, Foodamn Philippines, Public Toilet Philippines, and Storytelling Philippines. Connect with her on Instagram via @greendei and on Twitter @greendei for useful tips on digital branding, entrepreneurship, consumerism, parenting, health talk, women talk, Pinoy travels and Manila lifestyle. For collaborations and proposals email her at deiville.com(@)gmail(dot)com