Express Yourself Parenting Workshop by SmartParenting.com.ph
Inside Out Movie Premier + SM Cinema, Snack Time in partnership with SmartParenting.com.ph
Express Yourself
A parenting workshop to get to know your kid better
August 15, 2015 Sm Aura Premier –  A whole afternoon of family fun was held at the activity area at the 3rd Level of SM Aura, presented by SM Cinema, Snack Time and Smart Parenting Magazine. Guests, parents and children enjoyed the Inside Out-inspired photo booths in five color emotions (red-anger, green-disgust, yellow-joy, blue-sadness and purple-fear) based from Pixar's latest hit Inside Out, there is also a parenting talk from invited presenters about bento making and the stress-buster adult coloring hobby, cool prizes from Inside Out merchandise, Hawk kid's school bags, Herbalife wellness program, SM Cinema e-Plus booth, giveaway goodies for parents, coloring areas for kids, snacks and sweet treats courtesy of Krispy Kreme, Snack Time's popcorn galore and bubble drinks, Inside Out inspired treats such as cupcakes, pretzels, cookies, mallows and gummies. And most of all the highly anticipated block screening of Disney Pixar's Inside Out. Giant character display of Joy, Sadness, and Anger were spotted at the event entrance, children and kid's at heart marched their way to have their photos taken (Sadness is really adorable!) The event was hosted by Marylaine Luise Viernes.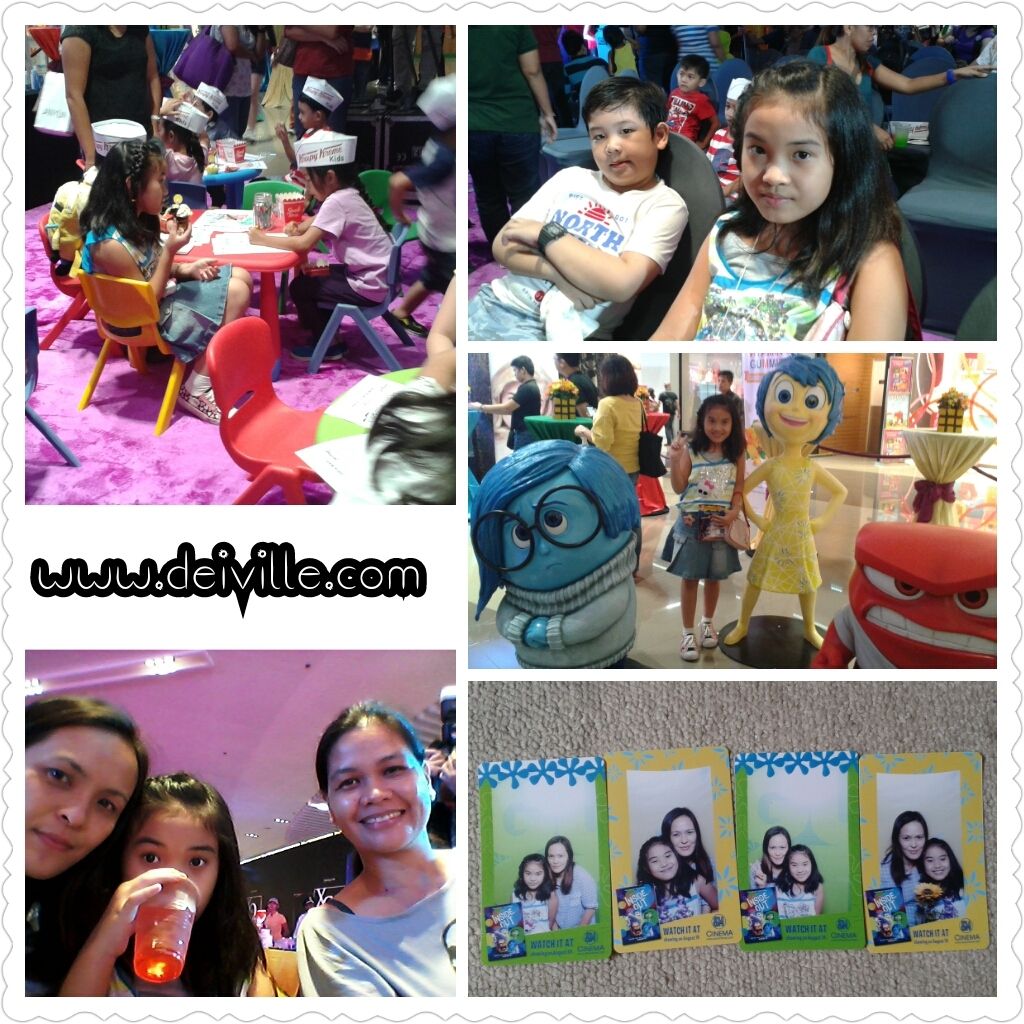 Parenting talks:



Chef Roselle Miranda, food editor of Good Housekeeping Philippines presents "Bento Baon for Kids." She pinpointed out the basic concepts of bento making, how it should conform from a practical Filipino lifestyle, mistakes to avoid and investing in basic bento tools and food containers that will match your meal budget. She also suggested what to invest and alternative food choices to include on your child's "baon" (snack).  She said, a child's school snack should include a four-part meal: carbs, proteins, fruits and vegetables.When it comes to design – creativity adds spice to your bento, it doesn't have to be expensive but you can achieve a cheaper and unique accessories. An example: when moms can try making a DIY toppers using their child's fave character stickers.
Mark Dean Lim, a young illustrator who created one (here in PH) among the others of this phenomenal "coloring therapy" among women nowadays. His published works, Color Me Doodle is an adult coloring book; he also does workshops to share his insights and coloring technique. From this event, his presentation includes the color influence, color perception, creating contrast and pattern. You can check out his Instagram works at @markdeanlim and @colormedoodle.
Inside Out short review:
We were lucky to be part of the block and advance screening of Disney Pixar's Inside Out held at the Cinema 2 Level 4 of SM Aura Premier.  What we learned from the main character  Riley, an 11 year old girl with character emotions in her head  (Joy, Sadness, Disgust, Anger and Fear) working hand in hand to make Riley feel in a state of contentment and positively happy, whom with Joy who seems to be in charge to work even harder to embed Riley's memory with good feel attitude. Real life  situation doesn't work that way, Joy learned how to balance with Riley's other emotions. It's nature for humans to experience struggles before success, in fact loneliness and failure makes a person stronger. That is why at the end of the movie , we begun to like Sadness (spoiler) she's there for a reason, a bit annoying but perfectly okay to be SAD to connect with your sentiments.
The movie opens on August 19, 2015 at SM cinemas nationwide.
SP Moms Community
I would like to thank Mommy Jazer Basan of SmartParenting.com.ph for the exclusive invites to a few mommy chatters from the Smart Parenting – Parent Chat forum. Lucky to meet new mommy friends and also seeing an old mommy blogger friend, Mommy Vix of Mum Writes. 🙂 Until next time!
More photos of the Inside Out Movie Premiere and Express Yourself Party on DeiVille Facebook Page.
DeiVille.com, created by Green Dei (Daryll Villena)
Write us at darylldial(@)gmail(dot)com for tips on entrepreneurship, consumerism, parenting, digital marketing, social media scenes and SEO.
If you find this post helpful, informative or entertaining, feel free to SHARE it.
Get instant updates from deiville.com on:
Facebook | Twitter | Instagram | Google + | Pinterest
I'd love to know what you think about this post. Feel free to leave your comment.
I do reply to each of your messages or questions so please come back if you've left one.
Disclosure: This is a not a sponsored post and deiville.com blog  only received an exclusive invitation for this event. DeiVille is not in any way compensated for review and sharing this post. Regardless, all opinions are my own; may or may not differ from yours. I only recommend, discuss or introduce my reader to products/services/businesses I would or do use myself.