DSP Manila Giveaway on Instagram
1K Followers for DSP Manila Giveaway on Instagram
#dspmanilagiveaway
Rainbow Loom Philippines Club
Rainbow Loom PH
Rainbow Loom Philippines
Crafting
Online Giveaway
The 1st DSP Manila giveaway aims to gather 1K followers on its Instagram account. Get hooked from these  free trinkets:
Rainbow Loom Refills in Electric Purple and Mixed Opaque
Repacked by 100's Mixed Camouflage and Mixed Pink Camouflage
Crafting stuff: jump rings, beads, crystal glittered heart pendant, assorted crystal and plastic beads, earring hooks and pins, chain clamp
Pitaka tarp purse and
Hydrangea soap handmade in Italy.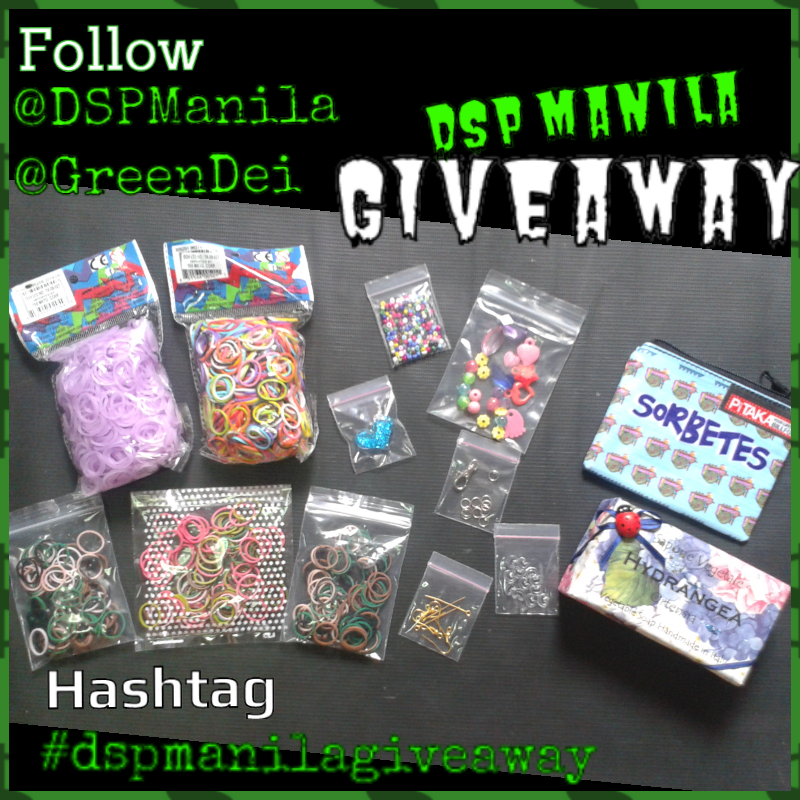 ←RULES→
1. Follow @dspmanila and @greendei
2. Repost this image
3. Hashtag your repost #dspmanilagiveaway
4. Limited to 3 entries per day
5. No private profile (we can't verify your entry) and no IG account dedicated for giveaways.
6. How to repost? Use repost app or do screen capture. For those who can't screenshot, giveaway image will be available at www.deiville.com
7. Winner will be raffled by random once DSP Manila hits 1,000 followers.
8. Extra points will be given to those who visit and "LIKE" DSP Manila Facebook Page [www.facebook.com/dspmanila]

Or thru here via Rafflecopter (to validate your entries)
a Rafflecopter giveaway

Disclosure: This giveaway is not any way sponsored or affiliated with Facebook  and Instagram. Prizes were sponsored from our kind friends from Pitaka, DSP Manila and deiville.com.
DeiVille.com, created by Green Dei (Daryll Villena)
Write us at darylldial(@)gmail(dot)com for tips on entrepreneurship, consumerism, digital marketing, social media scenes and SEO.
If you find this post helpful, informative or entertaining, feel free to SHARE it.
Get instant updates from deiville.com on:
Facebook | Twitter | Instagram | Google + | Pinterest
I'd love to know what you think about this post. Feel free to leave your comment.
I do reply to each of your messages or questions so please come back if you've left one.
Comments
comments