How Can I Be One – A Billion Entrepreneurs
Imagine a Community with A Billion Entrepreneurs?
Entrepreneurship
A Billion Entrepreneurs is a Crowd-Funded Film
Driving your own destiny and full control on any undertakings – these are the challenges I've included on my personal lists. From every ideas pop into my head until new ones occupies my time, so there goes a number of wasted opportunities that flew up into thin air!
I've learned one thing, if its not your niche do not attempt to try. And yet if it's not your niche but interests you a lot then put an effort to act on it! There's so much to learn on every aspects of life. It's a matter of focus and giving out the most amount of energy you have.
I've read about this project A Billion Entrepreneurs sharing a monumental kick and calling out my attention. "Entrepreneurship is being redefine to mean." To attain the much coveted freedom, security and success. How in the world can I achieved it?
FREEDOM. What does freedom mean to you? Freedom to do what's important to you. Freedom to make the right choices.

SECURITY. What is precious to you? your job, your family, your community? What else?

SUCCESS. How do you define success? Is it personal success, financial success, social success? You decide.
"Entrepreneurship is taking responsibility for outcomes in all areas of life."
So they say, you'll never know the things you haven't tried before. I have been rolling my luck on every other stuff I get myself into and so far I had the taste of both: failures and success. Yes I'm responsible for that outcome, by any means I keep on learning and adjusting.
A Billion Entrepreneurs is a movement spearheaded by Jimmy Newson, whose goal is to motivate and influence everybody ( "Imagine an entrepreneur in every home.") to plant the seed of entrepreneurship into a way of life by compiling success stories from entrepreneurs. The objective to "plant the seed of entrepreneurship" into multiple generations and re-define the word, "entrepreneurship" to mean, "Taking responsibility for outcomes," which ultimately means taking responsibility for one's life and current situation. A major catalyst was needed to jump start this movement, and spark people to get inspired to find their purpose in life, with the end result of living happier and more fulfilling lives. Therefore "A Billion Entrepreneurs" the film was created.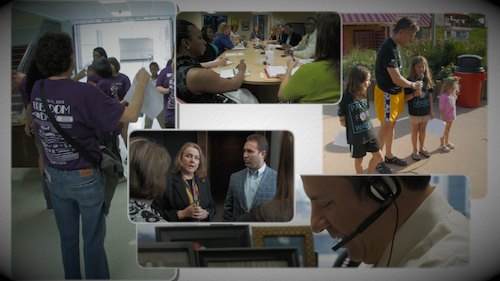 If the mindset of at least one person in every home across a community — thinks, connects and works like these the same, like having an idea and brought into an actual business execution to generate a substancial household income then it will lessen the financial burden especially of the poorer nations. In the eyes of global economy, a jumpstart business opens up a new world to financial freedom.
For A Billion Entrepreneurs projects to work out just as planned, the film is going through the process of collecting funds and allocating resources to facilitate marketing and distribution. The group have joined Indiegogo, a San Francisco-based crowd-funding company to gather budget to start rolling, promoting and joined festivals. Any amount of donation is gladly appreciated, it's you call.

For those interested to be part of the movement A Billion Entrepreneurs, you may visit the following portals:
ABE – www.abillionentrepreneurs.com
Indiegogo – www.abethemovie.com
Facebook page – www.facebook.com/abillionentrepreneurs
Twitter – www.twitter.com/ABillionEnt
DeiVille.com, created by Green Dei (Daryll Villena)
Write us at darylldial(@)gmail(dot)com for tips on entrepreneurship, consumerism, digital marketing, social media scenes and SEO.
If you find this post helpful, informative or entertaining, feel free to SHARE it.
Get instant updates from deiville.com on:
Facebook | Twitter | Instagram | Google + | Pinterest
I'd love to know what you think about this post. Feel free to leave your comment.
I do reply to each of your messages or questions so please come back if you've left one.
Disclosure: This is a sponsored post and deiville.com blog did receive compensation for review and sharing this post. Regardless, all opinions are my own  and sourced from A Billion Entrepreneurs ; may or may not differ from yours. I only recommend, discuss or introduce my reader to products/services/businesses I would or do use myself.
Comments
comments